Strain Review: Ice Palace by CAM
Official ICE PALACE @camstr007 @camincali_ official review
THC: 32.79% CBD: 0% CANNA: 37.94%
Cultivated : 8/13/21 packaged: 9/2/21
Lineage/Genetics: biscotti x gelato 41
Original Breeder: Seed Junky Genetics @seedjunkygenetics_jbeezy
Grower: CAM
Ice Palace Strain Review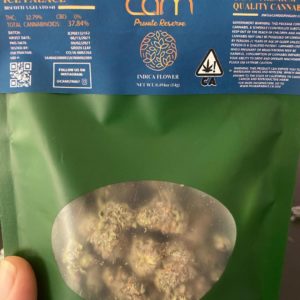 First impression – bang for the bucks, high quality, mid price point. Great genetics coming out of cam they have a lot of @seedjunkygenetics_jbeezy genetics. Anna reps them well with customer service.
WEIGHT CHECK- 14.3g/14g (10/10)
AROMA – has a hard to describe 'burnt icicles' scent. Very loud, gelato scents and some biscotti coffee mixed with the pungent dank skunky kush. (9/10)
APPEAL – darker nugs COATED in frost. Somewhat sticky somewhat dry, smaller spaded triangle nugs that run dark from the purps but lots of greens and blue tint also orange hairs chaotically scattered. its sticky frost for now, but from previous expirences it will mostly like be dryer fuzzier kief coverage in a few weeks. 9/10
SMOKE & TASTE – that same burnt icicles or burnt frost flavor takes hold. Maybe even a mint to it. Biscotti coffee flavors and pungent gelato back ends mixed with gas (9.2/10)
EFFECT & MEDICINE – heavy indica buzz hits fast. And last about 1.5 hours. Makes me tired and couch locked and is perfect for my preferences. (9/10)
Puff or pass: puff very good cannabis at the most reasonable price point. Could be bigger nugs and more moist/ sticky.
Overall: 9/10
Compare to @connected.california @blemvibe @canndescent @cannabiotix
Nothing is for sale! PHOTOGRAPHY AND REVIEWS ONLY!! #420 #710 #cannabis #cannabisreview #cannabiscup #cannabiscommunity #ᴡᴇᴇᴅᴘᴏʀɴ #sandiegoweed #sandiego420 #californiaweed #calibudreviews #californiacannabis #kush #indica #sativa #growyourown #weed420 #hash #socal420 #weed #ᴡᴇᴇᴅᴀʀᴛ #cbxlife #710labs #weedstagram #medicalmarijuanna #rosin #liverosin #biscottixgelato41 #icepalace #camincali
Advertisements