Strain Review: Funnel Cake by Eastwood Gardens
I'm gonna try to bang out this review while y'all can still go out and buy this shit. This is Funnel Cake from @eastwood_gardens_pdx. I've been smoking their flower since they were basically the in-house farm for @thc.pdx, and I can't recommend their stuff enough. Be it the fire rosin I can't afford, or the seriously dope @echo_electuary collabs that you can find in pretty much every dispensary, even the concentrates are dope.
Lineage/Genetics: Platinum GSC x Grease Monkey
Original Breeder: Seed Junky Genetics
Grower: Eastwood Gardens
Dispensary: TreeHouse Collective
Funnel Cake Strain Review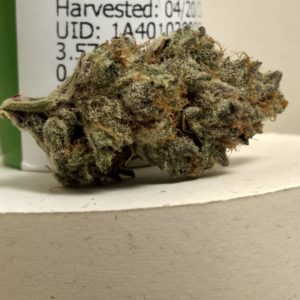 Lots of gas and dough on the nose from its Platinum GSC and Grease Monkey parents with a distinct hashiness that's really pleasant on the palate. It's a hard scent to put your finger on, and I'm super excited to smoke some more and narrow it down.
The effects are nice and heavy with a deep muscle relaxation in the first exhale. You'll notice a grumbling in your stomach as you smoke more. That's the munchies. Give in to them. Clear your fridge. Find new flavor combinations. This is your time to express yourself.
This is such a nice smoke for the end of the day. If you're looking for that little barrier activity between the workday and personal time, this is it. This plus a glass of your favorite whiskey is just such a wonderful combination.
These guys are blowing up, and the only thing holding them back right now is the OLCC. I know you can find them at @thc.pdx and @pdxpakalolo, but they're all over the place. I'm super happy to see them succeeding like they are, and they're only gonna get better.
.
.
.
pdxstoneman
@eastwood_gardens_pdx dropped a new batch of Funnel Cake. I wanted to make sure to get this review out while places still have it on the shelves for you to try.
Considering the quality and time since the last batch, I was really excited for this one. Honestly, I didn't like this one quite as much as past batches.
That said, though, I really did like this stuff. The terpene profile felt more developed, if less generally intense. It smelled like a carnival on the first whiff. Fried dough and cotton candy. As it sat in the jar a bit, it started to develop some more fruit and Kush notes. I wanna try the rosin, because this seems like amazing biomass.
It had noteworthy flavor to the point that it gets its own paragraph. I'm guilty of not focusing on flavor because I can't pick out too much complexity in a lot of smoke. This stuff had berry and hash notes galore, though. The fried dough got lost, but the cotton candy comes through pretty good.
The smoke was nice and smooth, and the high hits you right on the exhale. However, here is where I gotta mention my big gripe. While I enjoyed the initial high, it was rather short lived for me. This would've been an absolute A+ in my book were the high to be longer lived.
I'm enjoying this stuff overall, but I might have to rethink my hot take on Funnel Cake being superior to Elephant Ears. I gotta try them side-by-side again. Either way, give this stuff a try. My broke ass spent $70 on a quarter and I haven't regretted it once. It'll fill out your blunt something nice.
#thehighestcritic #eastwoodgardens #strainreview #strainreviews #weedreviews #420review #portlandcannabis #OMMP #portlandweedreviews #mmj #oregoncannabiscommunity #portlandcannabiscommunity #oregonweedreviews #Medicate #oregoncannabis #mmjpatient #medicalmarijuana #weshouldsmoke #pnwstoners #420lifestyle #cannabisreviews #cannabiscommunity
Advertisements