Strain Review: Hua Nui by Bryan Family Gardens
This Hua Nui is kind of an enigma of a strain. THC isn't astronomical, but still incredibly good for mid-shelf sativa. Description said it was a Madagascar landrace, budtender said it was Hawaiian. With a name like "Hua Nui," I'd expect Hawaiian, but the high seems like it comes from somewhere in Africa. African landraces lean toward this incredibly creative, energetic, stimulating high that can be a little intense for some.
Lineage/Genetics: Madagascar landrace
Grower: Bryan Family Gardens
Dispensary: Tetra Cannabis
Hua Nui Strain Review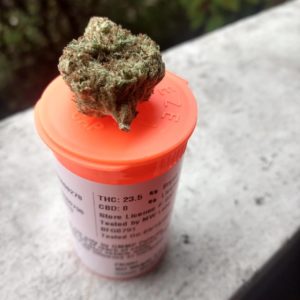 Overall, this stuff was great. Made me cough like a motherfucker if I loaded bong rips even a little too big. The taste was hard to describe. Kinda spicey, kinda skunky, kinda earthy, but nothing in specific really stood out. It was perfect to bring along on a trip to @blackbutteranch for vacation. Amazing to just have bowls loaded for walks in the woods in Eastern Oregon, looking at ducks and shit.
For the price, it's a great quality sativa. It's perfect for someone looking for rare strains that aren't like "Papaya OG Cookie Breath X Dog's Pajamas" or some shit. Nice stimulating smoke for the morning.
Had trouble finding the grower's IG page, so just stop by @tetra.pdx to find them and other great stuff.
THC: 23.5%
CBD: 0%
.
.
.
#pdxcannabiscommunity #portlandweed #oregonweed #cannabiscommunity #highsociety #higherthanmost #ommp #medicalmarijuana #medicate #sativa #landrace #weshouldsmoke #wedontsmokethesame #justblazeig #weedstagram420 #pnwstoners
Advertisements