Strain Review: Blunicorn by Arnow Browne
Life's been mad busy lately. Haven't posted in forever. Gonna try to get back to my usual posting schedule again.
Snagged this Blunicorn by @arnowbrowne for my evening ganja.
Lineage/Genetics: Unicorn Poop x Blue Sherbert
Original Breeder: In House Genetics
Grower: Arnow Browne
Dispensary: Tetra Cannabis
Blunicorn Strain Review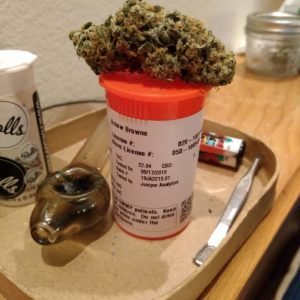 It's definitely one of my favourites, and Arnow Browne has been a quietly fantastic farm in Oregon for a little while. If you can find their Chernobyl or Confidential Cheese, you'll be happy with those, too.
The flavor and smell are really unique. For lack of a better term, it smells like shit, but in a good way. It has a deep, savory funk with a hint of berry sweetness at the end that makes it one of the most unique smells I've had in my medicine cabinet for a hot sec.
The effects are nice and relaxing, while still letting you function just enough to get by. I use this stuff as kind of a wind-down smoke, without being a straight knock-out. Good before a long car ride, as long as you aren't driving.
Overall, gorgeous weed, good smoke, wonderful flavor and smell. Definite recommendation if @tetra.pdx has it when you're in.
.
.
.
#portlandweed #oregonweed #OMMP #weedstagram420 #weedporndaily #cannabiscommunity #hybrid #indica #portlandcannabiscommunity #medicate #medicalmarijuana #higherthanmost #highsociety #wedontsmokethesame #weshouldsmoke #justblazeig #pnwstoners #fueledbythc
Advertisements