Strain Review: Snoop's Dream by High Winds Farm
I have a really nice, if under-the-radar offering from my friends at @tetra.pdx for your reading pleasure today: Snoop's Dream. They got broken into again, so please go make them feel supported. They're great people who I'm happy to call friends. I'm mad when anybody gets robbed, but this is my "Cheers," man.
Lineage/Genetics: Blue Dream x Master Kush
Indica or Sativa: Indica dominant Hybrid
Original Breeder: Coastal Genetics
Grower: High Winds Farm
Dispensary: Tetra Cannabis
Snoop's Dream Strain Review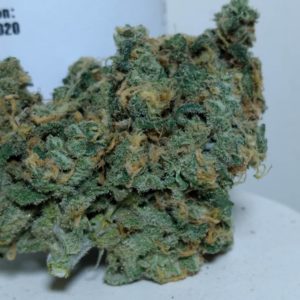 It's been a bit since I've had a noteworthy sample of Snoop's Dream. This one from @highwindsfarm was a nice surprise. The buds were incredibly large and covered in striking yellow hairs that stood out against the lime green of the nugs themselves. Fluffy, but not airy or lacking density, it burnt down to a nice white ash when fully roasted.
The smell leaned toward cherry or maybe a dark berry, but had some licorice notes that turned it into sort of a cough syrup aroma. Some of that was lost in the smoke, which leaned more toward a creamy spice.
The high was pretty indica standard. Stoney euphoria, lots of giggles with some munchies. I feel the need to mention that I got a headache every time I smoked this, but my girlfriend has been smoking it for about a week now and hasn't noticed anything, so your mileage will likely vary. Realistically, your experience is gonna be different from mine with everything I review, so maybe this is a good lesson on why you shouldn't just blindly trust a review, I dunno.
I was gonna pair this review with the Rogue OG from the same shop, but I wasn't gonna be able to give either the focus they deserve. I'm coming for you @grownrogue.
Also, please stop robbing my friends. It is not appreciated, nor is it cute. @wokeface worked really hard on that door, you dicks.
#thehighestcritic #snoopsdream #strainreview #strainreviews #weedreviews #420review #portlandcannabis #OMMP #portlandweedreviews #mmj #oregoncannabiscommunity #portlandcannabiscommunity #oregonweedreviews #Medicate #oregoncannabis #cannabiscommunity #medicalmarijuana #pnwstoners #pdxcannabiscommunity #pdxstoners #pdxcannabis #cannabisreviews
Advertisements