Strain Review: Gasoline Zest #5 by Meraki Gardens
Their MAC was the first I ever tried, their Alien Rock Candy puts me right to sleep in the best way, and this Gasoline Zest is such a clean high. I got like one more @tetra.pdx review in the pipeline. Hopefully they won't be closed for too long and I can get back to reviewing their stuff again. Plenty more weed to review in my medicine cabinet right now, but you never forget your first.
Lineage/Genetics: Lemon Tree x Jet Fuel Gelato
Original Breeder: Compound Genetics (Jeff Wyeast)
Grower: Meraki Gardens
Dispensary: Tetra Cannabis
Gasoline Zest #5 Strain Review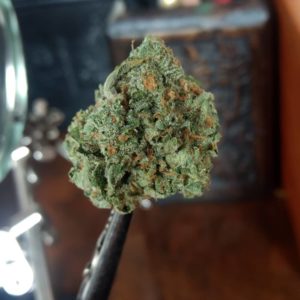 I've reviewed a good deal of @merakigardens cannabis over the past several months. The nose is full of citrus and gas, with some notes I can't put my finger on. The first hit in the morning leaves me coughing pretty good, but it mellows out after a few minutes into a very enjoyable smoking experience.
This is an active, clean high. Big euphoric energy on the front end, with a nice uplifting, productive finish.
I honestly don't know where you can find this right now, with my home away from home closed temporarily. I'm sure the lovely people at @merakigardens can tell you. They've provided terpene profiles when I've asked and generally been a joy to interact with the few times I have. They're female run (I hear there's a good number of male growers, but diversity is the lifeblood of a thriving industry) and definitely an Oregon farm worth supporting.
Stay safe and #washyourhands.
.
.
.
#stayinside #thehighestcritic #pdxweed #pdxcannabiscommunity #strainreview #strainreviews #420review #420lifestyle #oregoncannabiscommunity #portlandweedreviews #oregonweed #Medicate #cannabisreviews #OMMP #cannabiscommunity #mmj #medicalmarijuana #pnwstoners #pdxcannabis #portlandtrees #portlandcannabiscommunity #justblazeig #weedstagram420 #weshouldsmoke #highsociety #higherthanmost #wedontsmokethesame