Strain Review: Lazy Lightning from RISE Cannabis
Lazy Lightning Review 28.7% THC @rise.cannabis Lazy Lightning is one strain I've been intrigued with since I heard the name.
Lineage/Genetics: Headband Loompa x 88 G13 x HashPlant
Indica or Sativa: Indica dominant hybrid
Original Breeder: Bodhi Seeds
Grower: RISE Cannabis
Dispensary: RISE Cannabis
Lazy Lightning Strain Review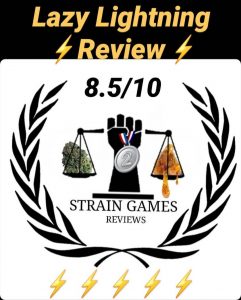 I was happy to be able to pick up a couple jars while traveling through our great state. 3 words to describe this strain strong, smooth, and effective. The smell and taste make me think musk, sour, hashy, musk with a slight lemon exhale. The name is a perfect fit, the lightning goes on upstairs as your mind will expand and become very active. Almost like a jolt you may feel energized at first but you will soon find that energy is not very focused. It can be very mentally stimulating but those thoughts most likely will be all over the place a little like lightning eh ⚡.
The body becomes very relaxed which is where the lazy side shows it promise. As time passes it really sets in and you may start to feel heavy. The effects are amazing and the 2% Myrcene is felt and tasted. Limonene came in at 0.9%. I always felt I was able to communicate so probably not too stoney for those with a decent tolerance. I would also like to mention that this strain seemed longer lasting than most. I could see this strain causing a lot of laughter and it should be great for movies and music. I noticed that I was in no hurry to remedicate. I sure wish RISE would rise up to North Florida.
At the Strain Games Medal Presentation Lazy Lightning came just short of the Gold. However the performance and effort should not be taken lightly as this was a very Solid Silver Medal Performance. We would welcome this competitor back at the Strain Games anytime. Thanks Lazy Lightning.
#straingames #Strain_games #straintesters #cannabisreviews #medicalmarijuanareviews #gasgas #marijuanareviews #floridamedicalmarijuana #floridasfinest #flmmj #flmmjpatients #risecannabis #risecannabisflorida #greenthumbindustries
Advertisements