Strain Review: Coma by Jungle Boys
Strain: Coma 
Who: @jungleboys
Lineage: Ghost OG x Skywalker OG x SFV OG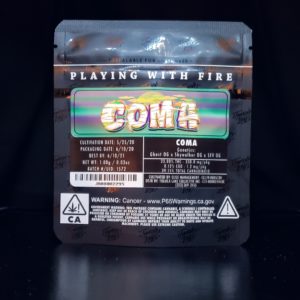 Stats: 33% THC – .12 % CBD
39.15% Total Cannabinoids
Jungle Boys Coma Strain Review
Aroma: Sweetgrass, Hops, Gas.
Taste: Earthy Custard, Touch of Citrus, Spice.
Medicinal Effect: Excellent for relaxing at the end of the night. High CBD% for inflammation and pain. Given the title of the strain, I was expecting couch-lock, but  didn't have any. Will effect people differently.
Structure: Somewhere between dense and medium, pulled apart easily. Deceiving though, as a normal bowl seemed to expand in my lungs with greater irritation than most. Had to tame it down a little.
Overall: I really wasn't expecting much out of Coma, but now I wish I had bought more. Just when I was starting to get into the subtleties of the taste my portion was gone. May have to revisit this one if it comes back. The citrus from the Ghost OG is light, the herbal pine from the Skywalker OG merely grazes the palate, and the Sweet Fuel coming from the SFV OG really creates this wonderful taste that took me by surprise. On top of that, this batch came out exceptional at almost 40% total cannabinoids. Really impressed with Jungle Boys ability to blend these steadfast strains into some new pheno than really feels fresh.
The Fire Scale: 8/10 flame-quivers