Strain Review: Lemon Sugar Kush by One Plant
@oneplant.fl LSK (Lemon Sugar Kush) Review 19.51%
Lineage/Genetics: Larry OG x Double OG
Original Breeder: One Plant
Grower: One Plant
Lemon Sugar Kush Strain Review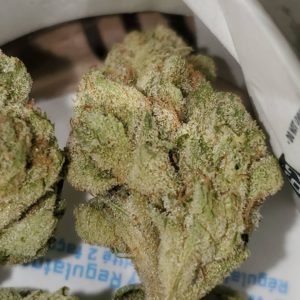 There is not one seat left in the patient seating section as the OnePlant fanboys and fangirls have come out in full force to see the Lemon Sugar Kush performance. Signs such as Brady Be Mine, ONEPLANT Forever, and #1 Plants at OnePlant were scattered all throughout the crowd. As the old Florida legend tells it, the Lemon Sugar Kush once sold out in just 8 minutes.
If you don't use too much this strain it can be mentally upbeat. I found myself dancing a little to the some music at the beginning of a movie. If you mess around and toke a little too much you certainly can feel relaxed but usually not completely down and out. This strain is not harsh at all and definitely one of the easier smoother smokes. Lemon Sugar Kush also made our list of 2020's tastiest strains.
Appearance 3.5/5 – It does appear that these little nugs have been indeed rolled in sugar but some are to small and a little too leafy as well.
Smell 4.5/5 Lemon, tart, perfumey better smelling than potpourri, but light not a strong aroma more a silky delicate smell. It's a Yellow Starburst boom nailed it 👌 Sommelier Terps
Taste 4.5/5 From the first hit the flavor is there. Easily one of 2020's tastiest strains. Do you remember those little lemon sugar cookies when we were kids? That is what I get fresh out the grinder.
Mental Destination 4.5/5 Mellow, focused, hopeful. Uplifting yet relaxing 😌 ☺ Chill Strain. Aahhh!!
Duration of Elevation 4/5 Solid lasting effects
Overall 9/10
At the Strain Games Medal Presentation Lemon Sugar Kush easily took home the Gold Medal. She wore it proudly representing OnePlant and the boys on the farm @brrrrrrn @surfingesq @daggaderek This is one strain that patients can actually be excited about in this Florida market. I would recommend this one for your Aunt/Uncle at the family function. The one that sneaks out and asks for a hit. This strain will allow him/her to still function but give a nice playful vibe and relax their nerves. They could be more clownish and pinch their significant other on the butt or get more introspective and appreciate their kids even more. Either way their will be a major effect on attitude!