Strain Review: City Slicker by Greenpoint Seeds
💚 City Slicker 💚 // Hybrid
Lineage/Genetics: Gelato 33 x Stardawg
Original Breeder: Greenpoint Seeds
City Slicker Strain Review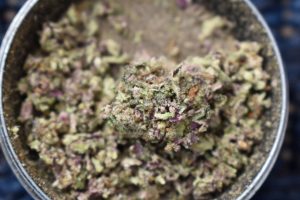 THCA: 21.6% // THC:18.67%
Effects: Anti anxiety, anti depression, anti inflammatory, body easying, relaxing
Terpenes:
• Limonene (8.99 mg/g): stress relief, mood boosting
• Nerolidol (7.17 mg/g): sedating, calming
• Caryophyllene (5.79 mg/g): mood boosting
• Humulene (2.48 mg/g): pain relief muscle spasm, inflammation
• Pinene (2.21mg/g): memory, creativity
🏙"City slicker" is an expression meaningb someone accustomed to a city or urban lifestyle and unsuited to life in the country.
💚Lime geeens with bright purpkes and bright white crystals, super beautiful strain, a shame is didnt get pics when there were more. It was such a nice dense nug.
Smoked it in a pipe and in a blunt on seprate occasions.
I had a blunt with a friend while listening to a podcast facials unwinding after a couple of hard days.
It was just prefect. It can end up knocking you out if you are tired.
Good for evenings, after work, with coffee or if you have anxiety.
It gives a slight euphoric effect that balances the heavy relaxation feeling, so its not full on sedation.
.
.
.
#cannabiscommunity #cannabis #cannabisculture #cannabispr #weed #marijuana #weedblog #weedlife #weedporn #weedgirls #weedblogger #cannabisenthusiast #420community #420everyday #weeddaily #cannabisbabe #stonergirl #smokespot #headintheclouds #strainoftheday #puffpuffpass #420photography
Advertisements