Strain Review: Rug Burn OG by Rare Dankness Seeds
💚Rug Burn 💚 (hybrid) aka Rug Burn OG
THC 20.31%//CBD 0.06%
(Online it's stated as a Indica dom)
Lineage/Genetics: Ghost OG x Rare Dankness #1
Original Breeder: Rare Dankness Seeds
Rug Burn OG Strain Review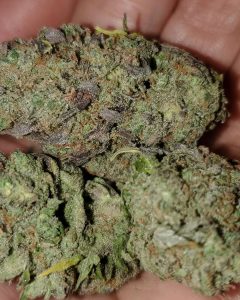 I will be honest here, when i bought it i correlated rugburn and sex and thought maybe it would be good for sex because the only possible reason my head could come up.
💗Terpenes :
• Limonene
• Linalool
• Mycrene
Linalool & limonene give it a light citrus and floral sent, and the mycrene gives it the slightest earthy tone which is just a really lovely smell.
Its a very relaxing uplifting moodboosting
You are at ease aware chill vibing. Great for any time of the day because it doesnt make one tiered, yet causes calming effects.
💋Can be used for slight arousal. As i said i got it because of that correlation and it turns out that the top terpenes for arousal are limonene &linalool, this strains most dominant terpenes. Its ability to relax and sooth someone can really cause someone to ease into an arousal mood.
💗Effects: Elevated mood,Stress relief, anti anxiety, anti depression, sedative and pain relief, relaxating calming effect and Anti-epileptic
.
.
.
.
.
#stonergirl #cannabiscommunity #cannabis #cannabisculture #cannabispr #weed #marijuana #weedblog #weedlife #weedporn #weedgirls #weedblogger #cannabisenthusiast #420community #420everyday #weeddaily #cannabisbabe #stonergirl #smokespot #headintheclouds #cannajeva #blazedbeauty #passtheblunt #puffpuffpass #420photography #strainoftheday
Advertisements