Strain Review: Apple Fritter by STRAINs
If you can't tell, I had a little trouble getting satisfactory pictures of this Apple Fritter. @strainscanna hit me up about getting me some samples, and I had two strains of gorgeous flower in my hands by the end of the day. The Fritter was the hardest to photograph because the shit is just so purple.
Lineage/Genetics: Sour Apple x Animal Cookies
Original Breeder: Lumpy's Flowers
Grower: STRAINs
STRAINs Apple Fritter Strain Review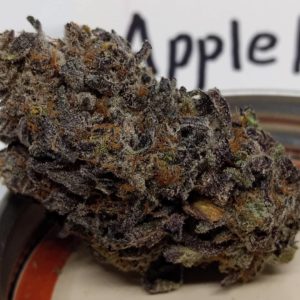 I'm frankly incredibly impressed with the quality of this flower. Cure is thorough but still has some squishy give to it. Coated completely in pristine trichomes. This farm is still medical while they work on licensing, and that extra quality I associate with the medical game was definitely there.
Along with the overall bud quality, the shit is a room clearer. Just popping the lid off the jar fills the room with this fruity scent I really dig. Apple skin and berries. I think it's connected to myrcene levels because a lot of those kinda berryish strains have similar notes to that apple skin note I get from the Fritter.
The high is a little stoney but generally functional. There isn't quite a couch lock, but it is couch lock curious. I like to toke it while I'm writing or gaming. Helps with the focus, keeps my back from aching.
I'm gonna address my only gripe briefly because it's something I've talked extensively about and I don't want to be a broken record. I do not like the bags. They're unnecessary and limiting. Not to mention they provide no protection to the buds themselves, so they can get squished. They create less waste by weight, but they have no reusability or recyclability. These are things we need to be moving away from as an industry if we want the world to stop dying.
These guys are still working on their rec license, so you won't be able to really find this stuff anywhere yet. Once they're licensed, I thoroughly recommend their flower. Both this and the Gatsby they gave me are top notch and well bred. It'll definitely be worth the grab.
Oh yeah, it's the @lumpstatus Fritter in case anyone was interested in the breeder. That Fritter is gonna be big.
Now I'm getting mothballs and gas. This is really complex weed. I'll make sure to put it in my stories when these guys get their rec license. They'll be a welcome addition.
#thehighestcritic #strainreview #strainreviews #weedreviews #420review #portlandcannabis #OMMP #portlandweedreviews #MMJ #oregoncannabiscommunity #portlandcannabiscommunity #oregonweedreviews #Medicate #oregoncannabis #PNWStoners #PDXcannabiscommunity #pdxcannabis #pdxstoners #cannabiscommunity #cannabisreviews
Advertisements