Strain Review: Don Mega by Rosebud Growers
The best part about being a reviewer in the capacity I am is that amazing farms like @rosebudgrowers will drop like a quarter ounce of Don Mega off in the alley behind my house for free and thank me for it. I kid, but I really do cherish the relationships I'm building with people across the industry.
Lineage/Genetics: GMO x Black Banana
Original Breeder: Solfire Gardens
Grower: Rosebud Growers
Don Mega Strain Review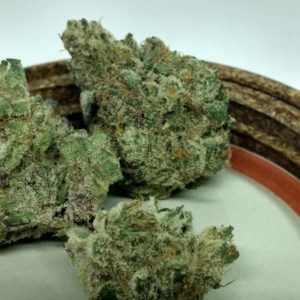 The Don Mega is a cross of GMO and Black Banana from @solfiregardens2019 that leans heavy on GMO for its terpene profile. That said, to call it just GMO terps would be reductive. Funky, roasted garlic feet and a little bit of manure, generally floral notes underneath. It's an interesting one.
The cure was perfect. Sticky, greasy, but not at all moist or undercured. Sometimes sticky weed is just undercured, but this is perfect and has only gotten better every time I open the jar.
Mild melting is the best phrase for this stuff. I rolled about a gram into the best joint I've ever smoked, and it legitimately made me question whether going to the dispensary was a good idea while I was waiting in line. I love when that happens. I've been smoking for more than 10 years, it's nice when I'm like playfully too high off what should be a manageable amount.
This is one of my favorite farms right now. Everything he drops off has been top notch, and I really dig the guy personally. I'll tag a few places to grab their stuff in the comments. I don't have that info ready and I trust IG's draft feature about as far as I can throw it. If you see it at your local shop, definitely pick some up.
As promised, dispensaries I've seen carrying this are: @natremsportland, @americannarx__pdx, @thebakeshopdispensaries, @officialbakeshop_salem, @lemonnade.retail, and @lemonnadepdx. Full disclosure, I've only been to one of them.
#thehighestcritic #strainreview #strainreviews #weedreviews #420review #portlandcannabis #OMMP #portlandweedreviews #MMJ #oregoncannabiscommunity #portlandcannabiscommunity #oregonweedreviews #Medicate #oregoncannabis #PNWStoners #PDXcannabiscommunity #pdxcannabis #pdxstoners #cannabiscommunity #cannabisreviews
Advertisements