Strain Review: Cherry Fritter by 9 Mile Farm
Cherry fritter @9milefarm
Lineage/Genetics: Cherry Pie x Apple Fritter
Original Breeder: Unknown
Grower: 9 Mile Farm
Terpene Profile: Unknown
9 Mile Farm Cherry Fritter Cannabis Cultivar (Strain) Review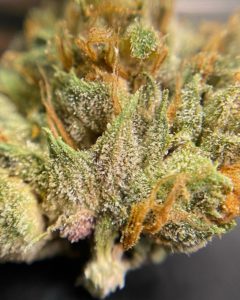 STRICTER SCORES STILL N EFFECT. Nothing for sale!
Aroma B+
Has the creamy/savory barley hops soy bean musky funky vegetable layer behind that is the sweet but tart cherry with crisp apple terps; cookie coffee combines with pie crust terps. Gassy lemons & pinesol mix with florals, sours, and hints of herbals. Breaking nugs reveals the sharp pungent gassy freezer burn fuel, sweet cherry cream, rubber, creamy vegetable apple musk & skunk with hints of cheesiness.
Appeal B+
3 bigs, and handful of avg sized nugs and some smalls make the half o. More dense than my usual pref. But this is density done right, the outsides of nug still have leafy shapes & definitions. Plenty of depths, & the inners show thick but properly stacked calyx's. Multiple shades Neon greens, occasional neon purples at the bases, tips, & outer highlights. Trimmed Leafs are purp/blue/black. The cure has the 'frozen' crisp finish that leans to the properly dried side over the moist side, but still contains moisture in the insides w/ some light stickiness to the inners. Trichomes are very neat, w/ high volume of coverage. The stalks are longer, but skinny, w/ nice defined medium sized heads on them giving the 'misty floating salted' coverage w/ hints of greasiness, but leans to the kiefy side much more then the greasy side. Trichomes have some fuzzy coverage on outers, but the bigger headed inner trichs are easy to see prior to breaking open due to semi-open leafy but chunky structures, made of exotic shapes w/ protruding chunks bursting off in organized directions as it builds upwards. Orange pistils escape calyx in mass gatherings, w/ medium length.
Burn A- taste B
Very white ash, rare pepper. Huge motor oil terp ring. Pleasant w/ gassy pressure. Cherry apple florals mix with barley hops veggies, doughmint, earthy-menthol, pinesol & lemon cleaner, very gassy, with burnt rubber.
Effect B+ potency B+
low red eyes, headband buzz, euphoric body rush & uplift mixes with full relaxation. 2.5 hours duration of solid effects. Finished cone easily but Great medication for pain, mood, & appetite.
Overall B++
Amazing strain guys, it has the fritter genetic appeal, but the density brings that structure together nicely, the terps are nice, loud but not overly loud from directly from the jar, but it has a background loudness that will leave a loud lingering skunky musk in your room despite precautions. The effects are nice hybrid vibes then fade to indica. The potency is very nice as it's strong, but mild enough to where you can blow a fat cone no problem. The effects are solid and Stoney, but with enough uplift to keep you up and focused for tasks at hand. The taste were very strong on the gas. Smooth but with gassy pressure. But the rest of the taste terps were minimized under the The lemon pinesol menthol diesel rubber & skunk as it was Very gassy dominant, the creamy savory veggie was next, with the sweets, fruits, cookies, pies, florals herbals etc hiding underneath. Goes head to head with freshbakeds cherry fritter, but because this has the whiter ash and fatter drip, it takes the win by a little bit.
Another the key factor here with 9mile is rec market vs traditional market, mass produced vs small batch hand crafted. And those differences are key. Not to mention the ticket factor gets you nearly double compared to rec. 9mile grows small batch in coco, leds, with uv bars added by @growerschoice
#calibudreviews #californiaherbsman