Strain Review: Cherry Fritter by Fresh Baked
Strain: Cherry Fritter
Who: @fresh_baked__
Lineage/Genetics: Cherry Pie x Apple Fritter
Original Breeder: Unknown
Grower: Fresh Baked
Dispensary: The Artist Tree
Cherry Fritter Strain Review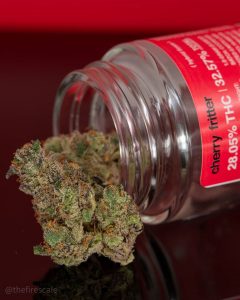 Stats: 28.05% – THC 32.57% Total Cannabinoids
Aroma: Barnyard Straw, Dry Mint, Hay, Sour Fruit, and Dead Grass.
Structure: Dark, frosty, alluring. Tight, dense buds that crumble a little from cure that is a tad dry, but not too bad.
Palate: Muted Spice, Plain Yogurt, Mothball, Slight Earth Finish.
Effect: Average Strength – Expect some euphoria and mild relaxation.
Overall: This is the last time that I purchase a gram. Gone are the days when I can expect the same quality as you would get from an 1/8th. So I just gotta throw this disclaimer up, because I feel like I received a poor representation of this strain, but if you've had this strain before, please comment below and tell me what your thoughts are.
Even though this product only had 6 weeks from the time it was packaged, by the time I opened the jar, there were hardly any terps left. The seal was tight and untampered with, so no foul play here 🕵️‍♂️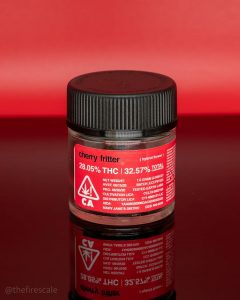 I picked up on the hay and straw aroma immediately. Surprising, considering that Cherry Pie x Apple Fritter sounds like a cross that would just be bursting with juice. Instead, there's a light sour fruit aspect that I suspect is from the Apple Fritter and some more undertones of dead vegetation.
Combusting the herb provides a mild throat hit, but still smooth. The flavors accurately represent the muted aromas, as I get some of the spice from Grandaddy Purple in the Cherry Pie, and a smooth and creamy earthy finish.
Sadly, I can only base this review upon the product that I bought. I've heard this strain can stack up with the rest of them and with a good batch this could have been a completely different experience. If I had received a jar of smalls I would have understood, but I got two very pretty little nugs that totaled to 1.1g – Clearly something went wrong here.
The Fire Scale: 6/10 flame-vinjaloos
🔥🔥🔥🔥🔥🔥
Are we forever subject to buying at least 1/8ths in order to receive quality product? People may laugh at me for buying such a low amount, but as you all can tell I really love trying new strains, and the gram bag can really help me with that goal in mind.
#cannaseur #nugshot #thefirescale #kush #weedstagram420 #strainreview #wesmokedifferent #indica #sativa #cannabiscommunity #stayhigh #weedstagram #hightimes #smokeweedeveryday #cherryfritter #freshbaked #weed #cannabis #marijuana