Strain Review: Strawberry Gelato by Backpack Boyz
Strain: Strawberry Gelato
Who: @backpackboyz420__41510
Lineage: Gelato x Strawberry Cookies
Original Breeder: Haute Genetique
Grower: Backpack Boyz
Dispensary: Daddy's Dispensary
Strawberry Gelato Strain Review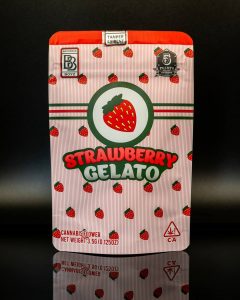 Stats: 18.189% THC .03% CBD
21.001% Total Cannabinoids
Aroma: Sour Musk, Stone Fruit, Fresh Cut Grass.
Structure: Dark, frosty, alluring. Tight, dense buds that crumble a little from a cure that is a tad dry, but not too bad.
Palate: Spice, Wet Grass, Lingering Strawberry.
Effect: Average-Medium Strength. Feels like a mellow hybrid with a slight edge towards indica. Relaxed, focused, and easy-going.
Overall: First off, love the package design by @danschmatzdesign – backpackboyz consistently has excellent branding. Even though this doesn't have anything to do with the actual strain, I do think packaging is part of the entire experience that you pay for.
Tearing open the bag, I am a little puzzled as I am expecting a sweet berry, gassy gelato aroma. Instead, I pick up on some fresh cut grass notes similar to old school Bubba Kush. There is a sour musk there from the Gelato, with a light berry base to wrap it up.
For such a fresh batch, I was a bit surprised that the cure was as dry as it was. This stuff should be sticky, but instead it's a little dry and crumbling, but not terrible.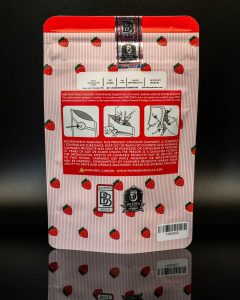 Combusting the herb I immediately noticed an earthy spice flavor that develops into that wet grass Bubba Kush that presented itself in the aroma, strange. I am so impressed though, as a smooth natural strawberry flavor that is phenomenally accurate lingers after the exhale. Normally, I wouldn't be so influenced by the suggested flavors from the name of the strain, but this is severely on point – closer to the 🍓 terps found in Strawberry Cough rather than diesel.
Still, this finishing impression doesn't redeem itself completely. The effect is mellow, terps are quiet, and I know that Backpack Boyz can do much better than this.
The Fire Scale: 7/10 flame-riki-tiki-ti's
🔥🔥🔥🔥🔥🔥🔥
What's your favorite BackpackBoyz strain? Comment down below!
#cannaseur #nugshot #thefirescale #kush #weedstagram420 #strainreview #wesmokedifferent #indica #sativa #cannabiscommunity #stayhigh #weedstagram #hightimes #smokeweedeveryday
#backpackboyz #strawberrygelato #designerweed