Strain Review: Blowin Biscotti by Connected Cannabis Co.
Blowin Biscotti @connected.california
THC: 31.01% CBD: 0.08% THCa: 34.62% TOTAL: 37.58% Delta9 THC: .65%
Lineage/Genetics: (south Florida OG 25 x gelato)
Breeder/Grower: Connected Cannabis Co.
Terpene Profile: Unknown
Blowin Biscotti Cannabis Cultivar (Strain) Review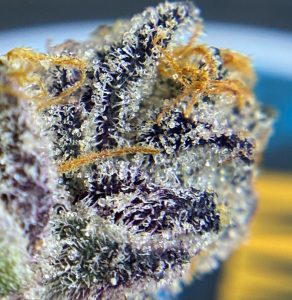 pack: 2/27/22
Weight: 100/100
3.56g
AROMA- 94.5/100
cheese, heavy cookie terps, baked cookie, biscotti notes, cream, nut, coffee, hazelnut. Herbal. Musky, funky, but it also has a sweet floral side. When broke open, the fruity terps break out, in that skunky but sweet gelato ice cream kind of way, that smells burnt or singed, pine lemon and gas
APPEAL: 96/100
this version looks more organic/leafy, in a good way, but still properly dense and nugged, Structure is made of half-foxtailed segments breaking off in different directions and stacking on top each other, some nugs build chunky & outwards. neon green and purples twist, mix and wrap each other at the bases and insides. but outsides are dark cookie colors covered in snow caps. glowing orange pistils highlight the nug. Silver streaking from heavy trich coverage against dark colors. Some fuzzy trichomes, but mostly big heads on these stalks. Semi-sticky.. & good clean crisp snaps break off.
SMOKE & TASTE- 87/100 94/100
Decent brown resin ring with a clear wet resin layer. Inside ash was mostly white with grey and lil pep. The outside ash was darker tho, still Decently pleasant, with flavor. TASTE: musky cookie herbals, baked cookie, biscotti creamy notes, coffee nut hazelnut, cheese wraps all the notes together. Gas pine lemon. And then the fruity floral sweet gelato terps are secondary.
EFFECT & POTENCY: 94/100 94.5/100
Heavy, intoxicating, numbing. Pain relief, nausea relief, mind is slowed, calmed, major stoned head change. BLOWN as we used to say, body is also great change, with relaxation, couchlock, chest pressure, headband pressure / eye pressure. 1.6cone: 6 puff to feel it, 8 puffs to feel lit, creeper effects, supplying heavy high for hours
Overall: 94.5/100
They dialed in the aroma & appeal.. other categories close.. this is way better forsure, but there is some things I miss about the old biscotti as well.
Nothing is for sale!
#connectedcannabisco #calibudreviews #blowinbiscotti