Strain Review: Blue Lime Pie by Wagner's
💙 Wagner's Blue Lime Pie
Lineage/Genetics: Key Lime Pie x Blue Power
Original Breeder: Sin City Seeds
Grower: Wagner's
Terpene Dominance: Beta-caryophyllene Dominant (Caryophyllene, Delta-Limonene, Humulene)
Dispensary: Ontario Cannabis Store
Blue Lime Pie Strain Review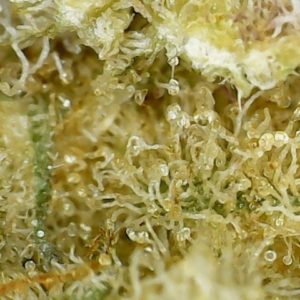 Here's a fun one. Technically no direct relation to Blue Dream, like it is with most strains named with that tell-tale word, based on the high you'd think it is
One side is Key Lime Pie, a pheno of Girl Scout Cookies, maximizing its citrusy terps. The other is Blue Power, a 4-way cross of Sour Double (a backcrossed Sour Diesel) × Master Kush × The White (another misleading one, not carrying any White Widow genetics, but named for its high THC frosty appearance) × Blue Moonshine (where we get "Blue" from. It's named for a blueberry taste, which coincidentally comes largely from the same parents as Blue Dream)
The aroma is much softer than I was expecting. It has a top note that may be called berry but is really more like the fresh smells of a forest. Maybe juniper. This is tempered by an undercurrent of humulene, which adds a malty creaminess that interplays with the top notes to transform them both
The rest of the bag appeal was much better than the nose, other than some squish. Almost the entire hq was divided in to two gorgeous nugs. They were fresh and sticky as Wagner's seems to really value a great cure and high terp bud. Most notable is how triched out they were, as The White's influence shows up
The high is why you'd think it has Blue Dream in it's lineage. From the start you feel the gentle uplift and cerebral mind effects, and the shoulders drop instantly. But as the high sets in and your body unwinds you'll notice a building mindlessness. It gets harder and harder to hold a thought. Horrible for doing chores, I found myself forgetting what I was doing while doing it. Following the plot in anything is impossible. The 25% THC starts to make sense.. for as long as you remem.. huh?
Overall Wagner's Blue Lime Pie is a high quality high THC iteration of Blue Dream, despite it not having any in it's family tree. Characteristically body effects accompany a slight uplift without a crash. And there is also the normal waviness though much much stronger and more incapacitating than usual. While not as flavorful as their Cherry Jam, this one's also a great grab and solidifies Wagner's spot in Ontario 🫐🌲🍺💙🥴
#ocs #ontariocannabisstore #ontariocannabisstorereviews #legalweed #legalcannabis #cannabisreview #weedreview #cannabiscommunity #cannabisculture #stoner #weed #cannabis #thc #budtender #budtenderreviews #420 #terpenes #420community #420daily #craftcannabiscanada #canadiancraftcannabis #canadianweed #canadiangrown #nugshot #budporn #weedporn #dank #wagnersweed #bluelimepie #bluedream
Hey my name is Sean out of Body and Spirit Cannabis, a fully independent licensed bud store at Yonge and Dundas in Toronto. Super sensitive to strain differences, I like to keep a bunch on hand for exactly what I want or need to feel. The alternative is my day is ruined or I don't get to smoke! Be sure to check me out @sean.bodyandspirit for a full list of reviews and stop by the store to say hi and check out the new drops we're smoking!
Advertisements