Strain Review: Platinum Grapes by Organnicraft
🍇 Organnicraft – Platinum Grapes
Lineage/Genetics: OG Kush Breath × Platinum Kush
Original Breeder: Unknown
Terpene Dominance: Beta-Caryophyllene Dominant (Bcaryophyllene, farnesene, and limonene)
Grower: Organnicraft
Dispensary: Ontario Cannabis Store
Organnicraft Platinum Grapes Review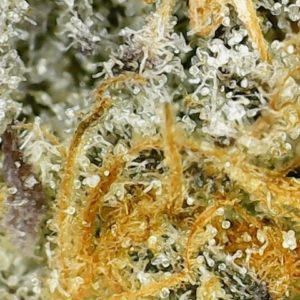 Lately there have been no higher quality options for the person not wanting to get blasted. Softer and gentle but still packed with flavor and grown to craft standards 🧐. OG Kush Breath × Platinum Kush. This one strays far from its hard-hitting genetics as Organnicraft provides a flower that's an improved version of Shishkaberry or even more so Purple Punch. My bag tested at 24.5% THC but that number is misleading
Every time you open it up the room is filled with a stunning aroma 🥰. The top note is like fresh grapes as the caryophyllene combines with trace terps to create that unmistakable grape aroma. Together with the dominant limonene it is very bright and presents as tart fresh grapes as opposed to the grape candy smell more popular. Underneath the myrcene adds a creamy funk. All of this carries through strong letting you taste every bit of the 3.85% terps and leaving a delightful aftertaste like a grape jelly yogurt cup 😋
The rest of the bag appeal will make purple fans delighted. Staying true to its name it's more purple than Prince💜 and almost as gorgeous. It has a beautiful coating of trichomes that look kinda ridiculous, otherworldly, and are somewhat deceiving
Also like Purple Punch, the effects are very gentle. At the start, there is no hit, no kapow, no wallop. It floats lightly taking away background thoughts and anxiety while still offering a working clarity. There is body relief but, again, it's workable, not couchlocking at all. If looking for a productive strain that will give you the relief of a traditional indica without the incapacitation, you've found it. Perfect for meditation, or just mindfulness in general, allowing you to swat away any intrusive thoughts 🧘🏽. I can also see using it next time I know my patience will be tested but I still need my wits about me. Family Christmas dinner is coming up..
Overall Platinum Grapes is some amazingly grown bud, evident at first glance. But unlike most of the current market, it allows you to appreciate a wonderful taste and smooth smoke without getting destroyed. There's a dedicated market for bud like this, and I hope more LPs pick up on that 💜💎🍇🥰💜
#ocs #ontariocannabisstore #ontariocannabisstorereviews #legalweed #legalcannabis #cannabisreview #weedreview #cannabiscommunity #cannabisculture #stoner #weed #cannabis #thc #budtender #budtenderreviews #420 #terpenes #420community #420daily #craftcannabiscanada #canadiancraftcannabis #canadianweed #canadiangrown #nugshot #budporn #weedporn #dank #organnicraft #platinumgrapes #purpleweed
Hey my name is Sean out of Body and Spirit Cannabis, a fully independent licensed bud store at Yonge and Dundas in Toronto. Super sensitive to strain differences, I like to keep a bunch on hand for exactly what I want or need to feel. The alternative is my day is ruined or I don't get to smoke! Be sure to check me out @sean.bodyandspirit for a full list of reviews and stop by the store to say hi and check out the new drops we're smoking!