Organic Marrakech Gold Hash by Highly Dutch
🇲🇦 Organic Marrakech Gold Hash by Highly Dutch
Processor: Highly Dutch
Dispensary: Ontario Cannabis Store
Organic Marrakech Gold Hash Review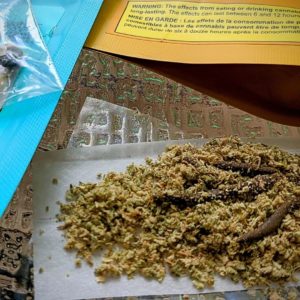 Finally! Some real old school, gooey, potent, and tasty hash! Others have ticked some of those boxes but not all, and can make for fun casual concentrates in their own right, but do not scratch that nostalgic itch many of us have for that familiar tar.
The Organic Marrakech Gold is made using simple methods reminiscent of the Moroccan style it is named for. Trichomes are combined with terps to create a texture that is smooth and malleable. It is ready to snake out of the bag without the need for extra work or heating. The colour is the only thing not as old school, being on the lighter side. Since minimal heat is used in its production the trichomes remain mainly amber and create a hash that is dark brown rather than black, and even appears gold at the right angle.
The potency cannot be denied, testing at 41% THC, it is among the strongest available. Also, the bud's sativa qualities carry through with the unadulterated uplifting terps. It is a nice change of pace as a regular hash user. It in no way feels more similar to flower than to hash, still offering the same spaciness and profound body relief, but there is less of a crash and the high feels more appropriate for the day. It still belongs in an opium den awash in smoke and pillows, but maybe the sun is peaking through the curtain entrance. It would be perfect for a full evening around the campfire, able to appreciate the forest's nighttime beauty while still social enough for charades and singing at the top of your lungs.
The taste is much brighter and milder than most hash. The deeper roasted notes are missing due to the lack of heat. As are the spicier notes common in most hashes, which use indica dominant flower and contain greater levels of caryophyllene. Instead a taste more similar to dry flower, with a slight afternote of skunk and citrus.
Overall, Organic Marrakech Gold is the highest quality hash I have ever had on the legal market. While not the best for those trying to get to sleep, it will be my new go to, especially for large joints shared among friends. And as we open up more and more I cannot wait to show this stuff off. 🦨🍋🛋️🔥🏕️
#ontariocannabisstore #ontariocannabisstorereviews #legalweed #cannabisreview #weedreview #cannabiscommunity #stoner #cannabis #budtenderreviews #420 #terpenes #420community #420daily #canadiancraftcannabis #canadianweed #canadiangrown #nugshot #dank #bodyandspiritcannabis #yongestreet #budtenderlife #dispensarylife #ontariocannabiscommunity #highlydutchorganic #marrakech #hash
Hey my name is Sean out of Body and Spirit Cannabis, a fully independent licensed bud store at Yonge and Dundas in Toronto. Super sensitive to strain differences, I like to keep a bunch on hand for exactly what I want or need to feel. The alternative is my day is ruined or I don't get to smoke! Be sure to check me out @sean.bodyandspirit for a full list of reviews and stop by the store to say hi and check out the new drops we're smoking!