Strain Review: Nitro Cookies by Organnicraft
🏎️ Organnicraft – Nitro Cookies
A new favorite! One that I'll be returning to for its specific effects, strong high, and delicious taste.
Lineage/Genetics: Gasmask x Animal Cookies
Original Breeder: In House Genetics
Terpene Dominance: Myrcene Dominant
Grower: Organnicraft
Dispensary: Ontario Cannabis Store
Nitro Cookies Strain Review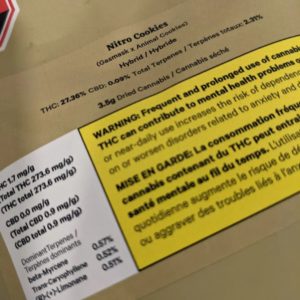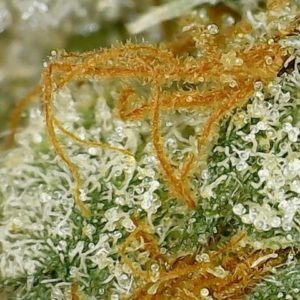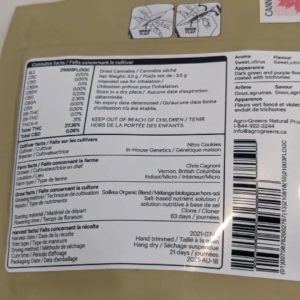 Opening the bag it's hard not to start grinning like an idiot. The top note smells like buttery lemon 🍰. It's creamy and zesty and intense. The myrcene makes the limonene coat your palette, just like it makes 🥭 so rich, while not losing the tartness. Underneath but not lacking intensity is the jet fuel nose tingle off the caryophyllene. This terp is the ⛽ that so many search for, and despite its spicier smell does not get in the way of the dessert like sweetness.
Bedazzled with trichs, super fresh, the perfect cure that busted into the ideal texture for rolling, and an amazing trim. The one negative of the bag appeal is a lot of popcorn. However, the trichome heads are undamaged as you can see in the micro pics, which are of one of those 🍿 bits. They are even beautiful milky white, showing that it was left to mature properly with a focus on quality rather than a fast harvest. Also, my bag was worse than other reviews, leading me to believe I just got unlucky.
On the inhale caryophyllene's ⛽ notes are in the fore, while the exhale leaves a 🍋 sweetness that is rich and robust. It's notably smooth and I was taking hit after hit just cause I could. From the start I felt the very specific effects that have me so excited. Almost as if my brain did a flip but at the same time was pushing up, I felt a massive rush in energy while still experiencing anxiety relief. It gives an almost transcendent rush that will take you above your body, imparting a profound sense of calm. It's perfect for a night out, as a 🍸 replacement, giving that same strong buzz without any couchlock. Towards the end of the high I definitely started to crash though, and a crash that ends in the bed not the couch. However, until I was ready for 🛏️ more hits kept refreshing the high giving me that boost.
This is my new jam. If you want to match the vibe of those drinking it's perfect. Also great for giving the sativa type boost without any anxiety or racing thoughts. And the actual strength of the high is a treat. Overall, just get it. 🍋🍰⛽🔋🥰
#ocs #ontariocannabisstore #ontariocannabisstorereviews #legalweed #legalcannabis #cannabisreview #weedreview #cannabiscommunity #cannabisculture #stoner #weed #cannabis #thc #budtender #budtenderreviews #420 #terpenes #420community #420daily #craftcannabiscanada #canadiancraftcannabis #canadianweed #canadiangrown #nugshot #budporn #weedporn #dank #organnicraft #nitrocookies #animalcookies
Hey my name is Sean out of Body and Spirit Cannabis, a fully independent licensed bud store at Yonge and Dundas in Toronto. Super sensitive to strain differences, I like to keep a bunch on hand for exactly what I want or need to feel. The alternative is my day is ruined or I don't get to smoke! Be sure to check me out @sean.bodyandspirit for a full list of reviews and stop by the store to say hi and check out the new drops we're smoking!
Advertisements