Strain Review: Berry Pie by Cookies Enterprises
Strain: Berry Pie
Who: @cookiesenterprises
Lineage/Genetics: Exact Lineage Unknown Might be LPC 75 x Kush Mints #11
Original Breeder: Unknown
Grower: Cookies Enterprises
Dispensary: Cookies Melrose
Berry Pie Strain Review
Stats: 24.27% THC .31% CBD
Aroma: Sweet Baking Dough, Elderflower, Grape, Cheddar Cheese Popcorn Powder.
Structure: Tight little nugs that were dense, but pulled apart without much resistance. Cure is a bit drier than I like, but that's 🍪
Taste: Earth, Spice, Lingering Floral Perfume.
Effect: Average Strength – Personally, I do get a Blue Dream hazy, unfocused sativa effect with a slightly elevated heart rate is what I get instead of any relaxing couch-lock effects.
Overall: Quick story: I always ask my gf, who does not smoke, to give me a second opinion on the initial aromas whenever I open a jar or pack. On this particular bag, Berry Pie, she stuck her nose in and came up with a slightly sour face, "Cheese?" 🥴
If you've read any of my Cookies reviews, I have previously stated this phenomenon…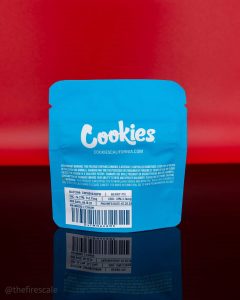 Can someone tell me why every single bag of cookies or minntz strains smell like cheese every single time? After a couple minutes the cheesy smell dissipates to reveal the true aroma of the strain, but it is always overpowered initially. Anyways, let's get into it.
I pour a couple little nugs from my bag of Berry Pie and break them up a little bit so that the aromas can be released a little, because this one is not giving me much. The sweet baking dough found in MAC is present sans the nutty notes, followed by some floral and dark fruit. But again, it's very subtle.
The flavor on my palate is as equally subdued; I'm mainly picking up some really bland spicy and earthy notes. Secondly, I've really got to stretch far to make out milky lavender notes, and it does have a gassy finish, but the terps are just not hitting hard here.
Effects are adequate, but I'm just severely disappointed considering that I've been told by multiple people that this strain is not so hit or miss. Well, maybe it was my batch, but this one was most certainly a direct miss.
The Fire Scale: 6/10 flame-zum-boombas
🔥🔥🔥🔥🔥🔥
Have you had Berry Pie? What did you think of it? Comment down below
Edit: Lineage, but does not taste or look like it has LPC 75 or KM #11 🤷‍♂️
Advertisements