Strain Review: Biscotti x Gushers by Connected Cannabis Co.
Strain: Biscotti x Gushers
Who: @connected.california
Lineage: Biscotti (South Florida OG X Gelato 25) x Gushers (TK x Gelato 41)
Original Breeder: Connected Cannabis Co.
Grower: Connected Cannabis Co.
Dispensary: Connected Cannabis – Cherry
Biscotti x Gushers Strain Review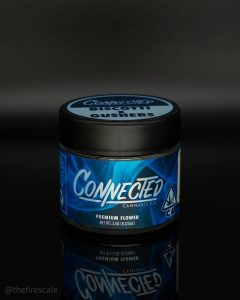 Stats: 32.45% THC – 0% CBD
36.42% Total Cannabinoids
Aroma: Sour Fruit, Creamy Gas Fumes, Acetone, Kush Pine bottom layer.
Structure: Sticky, Dark & covered in Crystals. Twisted, dense nugs that are not easy to break apart. Needs a little higher temp for combustion.
Palate: Mocha, Butane, Waxy Pepper, Milky Holiday Spice.
Effect: Above-Average Strength – Feels like a 50/50 hybrid – expect body sedation with a pretty hazy head effect.
Overall: Thanks to @inspector_ganja420 for saving me a couple nugs and the jar to do a proper review. If you've been following, I've been cruising around the Connected crosses for a couple months now and for the most part, I can rely on some 🔥 bud.
Biscotti is on the forefront of this aroma with it's dark pine sap and creamy gas ⛽ I recognize it from the prior batch of Guava x Biscotti where it was not as pronounced. The Gushers provide another sour fruit sweetness on top, true to its name.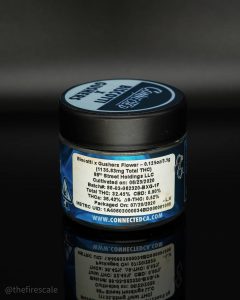 I imagine grinding this up would be a chore because as I pull apart the sticky leaves from these dense nugs they keep forming into larger clumps. I have to spend an extra second or two with my heat rod to fully combust this herb.
The smoke is thick and heavy, filled with butane notes, dark chocolate biscuit, and Kushy Panna cotta (my dream dessert that does not exist, but someone make it happen 🍨)
Flavors aren't as loud as the aroma, I do have to take multiple tastings in order to really pick up where everything is in this brew, but it's a good cut. I'd expect nothing less from Connected. It's not my favorite, though I'm sure some of you might disagree. Still, a solid score…
The Fire Scale 8/10 flame-swoopas
🔥🔥🔥🔥🔥🔥🔥🔥
What's your favorite @connected.california strain? Comment down below 🔥
#cannaseur #nugshot #thefirescale #kush #weedstagram420 #strainreview #wesmokedifferent #indica #sativa #hybrid #cannabiscommunity #stayhigh #weedstagram #hightimes #smokeweedeveryday
#designerweed #Biscotti #Gushers