Strain Review: Space Age Cake #A7 by Atrium Cultivation
Strain: Space Age Cake #A7
Who: @atriumcultivation
Lineage/Genetics: Animal Face x Kush Mints #1
Original Breeder: Atrium Cultivation
Grower: Atrium Cultivation
Dispensary: The Artist Tree
Space Age Cake #A7 Strain Review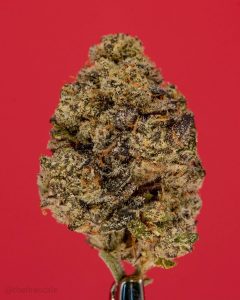 Stats: 23.93% THC- .04% CBD
27.72% Total Cannabinoids
Aroma: Wintergreen, Sour Milk, Pecorino Romano Cheese, Pine Oil.
Structure: Excellent cure, extremely fresh, sticky and resinous. Small-Med nugs.
Palate: Pomegranate Seed, Meyer Lemon Cream, Pine Needle, Lingering Kush.
Effect: Above-Average Strength, Indica leaning hybrid. Mostly a relaxing body buzz with some stoney head pressure 🤪
Overall: The subtle, yet classy packaging was promising as it states boldly on the label, "Rare Cannabis Flower" – I'm not a huge fan of Kush Mints, but let's give it a shot.
Cracking the seal initially brings an intoxicating sour cookie aroma that shifts as I draw closer, but does it develop. Wintergreen gum, cheesy notes, and sour dairy all roll into this wonderful aroma that makes me keep coming back.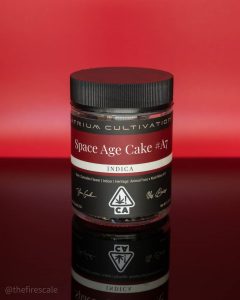 Picking up the buds I am enamored with the tight nug structure, twisting it around to see it sparkle. It's dense, yet fresh so it pulls apart with ease, like cotton candy.
At lower temperatures, my palate really picks up on the berry and lemon cream flavors, while the kushy pine tends to shine through at a higher combustion point.
I wasn't expecting this much out of this jar, but this is fantastic 👏 The effect is strong, the aroma and flavors are craveable. Pick this up if you see it. It was a little on the high end of the price scale, which is one of the only reasons why I wouldn't consistently try to seek it out. But this strain did make me reconsider Kush Mints, cause this cut is 🔥
The Fire Scale: 9/10 flame-peelas
🔥🔥🔥🔥🔥🔥🔥🔥🔥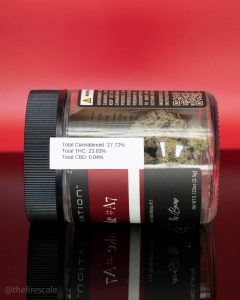 #cannaseur #nugshot #thefirescale #kush #weedstagram420 #strainreview #wesmokedifferent #indica #sativa #cannabiscommunity #stayhigh #weedstagram #hightimes #smokeweedeveryday #kushmints #spaceagecake #atriumcultivation