Cultivar Review: Slurricane IX by Pax Genetics
Slurricane IX – @paxgenetics
Nose: Menthol, fuel, citrus, peppery, eucalyptus, earthy
Inhale: Fuel, fruity, woody, earthy, bitter flower petals, spicy
Exhale: Musty, doughy, nutty, earthy, candy
Lineage/Genetics 🧬: Slurricane 44 x Slurricane 7
Bred by: In House Genetics @in.house.genetics
Cultivated by: Pax Genetics
Terpene Profile: Unknown
Slurricane IX Cannabis Cultivar (Strain) Review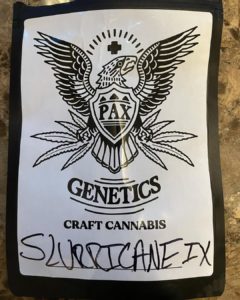 Hey what's up everyone? I hope you are all having a wonderful start to Memorial Day weekend and ready for another review. Today, I have a new guest who slipped in my DMs a couple months back, eager to have me sample some product for review. Hailing from Central Massachusetts, a town over from where I was born and raised, Pax Genetics exemplifies some of the flavor (and hidden gems) we have in the local market. Furthermore, as we chopped it up a little in the DMs, I learned that we both shared some mutual acquaintances which (as I always rave about) is one of the cool things about running this page. I found it interesting when he said his first cultivar he had to offer was Slurricane IX. This is one I don't have much familiarity with but was more than stoked to give it a try as well as my personal analysis on the cultivation quality. Upon doing some research, I learned that Slurricane IX is a cross between Slurricane 7 and Slurricane 44. The original Slurricane descends from Purple Punch and Dosi Dos lineage. As mentioned, I was very curious to see what this cultivar would have in store regarding to smokability and medicinal effects. Let's waste no more time and get into the facts!
When I was gifted a quarter of the Slurricane IX to sample it was given me into a relatively larger bag mylar bag than expected. My guess would be that you could fit at least a couple ounces in this thing to fill to the brim. The Pax Genetics logo appeared to me as spin off on Future's Freebandz brand logo. Instead of daggers, the eagle on the cover is clinching marijuana leaves in its talons. Nothing, in particular, captured my interest on the logo but I did admire it's creativity. I did admire the slogan on the back which read "good moral, better genetics" symbolizing a more than fair price point on the meds.
As I opened the seal on the bag, my nose was hit with the bizarre funk similar to Dosi Dos. Particularly, I honed in on a gaseous menthol smell which contained some notes of menthol and eucalyptus. With a long and lanky spear-like appearance, these larger sized buds had a nice glow to them. Each one consisted of a bright trichomes that lit up like a disco ball meshing well with a mix of lighter green to vibrant violet colors which, overall, made up a highly favorable aesthetic. I also caught some darker green leaves in the equation with wiry pistils coming off a nice trim. This cultivar features a sticky, but sturdy, texture which emitted a sour citrusy menthol odor when broken apart. The volume was definitely turnt up a little in the process of this bud being broken down. One thing I was not a fan was yield upon breaking up the Slurricane IX. After doing so, the bud had somewhat of a wet and sticky texture, opposed to it in the nug form, which provoked me to use more than needed when filling out the joint. Personally, this is one feature of this cultivar I was a big fan of. Upon taking a dry pull of the joint, I received a heavy taste of ripe grapefruit which was offset by undertones of nail polish.
My heartbeat became a little jittery later into the thick of the high producing somewhat of a euphoric happiness concurrent with the subtle feeing of relaxation. This also came in handy as a night smoke while I looking to unwind too, however, I really felt comfortable smoking this at any given point. I didn't think the duration in which the medicinal effects lasted were anything special going on for no more than an hour and half or so. I wouldn't go as far as to say the medicinal effects were the most standout I've ever seen on this cultivar but they did result in a fairly strong buzz while present.
After having a chance to try my first offering cultivated by Pax Genetics, as well as my first time trying Slurricane IX, I was impressed by how dialed in it was. From the time I laid eyes on the aesthetically gifted nugs I received to the time the medicinal effects set in, there weren't many negatives around the overall experience. Given this cultivars unordinary terp profile intertwined with a fairly gassy smoke, I wholeheartedly believe this has potential to be enjoyed by smokers from various levels of experience. That holds true to the balanced medicinal effects the Slurricane IX put out. Anyone who is looking for something in between a steady head high and semi-sedative feel of pleasure within their loins will be thrilled to see what this has to offer. I want to thank Pax Genetics for getting me this to sample as well as some additional head stash. He has told me he has some new flavors in the works for the near future so we will have more to come from him soon.
When I sparked the Slurricane IX in an Organic RAW, the initial inhales were moderately gassy made up of a heavy grape taste with a slight touch of z on the back end. On the way out, I tasted doughy and nutty terps that threw off some earthy, soily overtones, adding some gas to the flavor. The pulls early on were neither too fruity nor gassy. A little ways in I noticed floral notes which replicated a bitter flower petal taste bringing out woody terps and an earthy edge on each inhale. The mild candy taste I noted early on faded being taken over by unripened grapes. About halfway throughout the sesh, the grape flavor this cultivar put out was going very strong as notes of floral and sharp citrus made each pull increasingly gassy. As each became tougher to endure than the last, I did feel some moderate pressure forming in the chest which led to a few coughs. Given the Slurricane IXs sticky and damp texture when broken down the burn on it was a marathon not a race. As the joint burned slowly, it produced a thick white ash as well as a modest oil terp ring, dribbling down the sidewalls. I felt an added spice to the flavor within the tail end of the sesh capping off a very rich, yet unique, terp profile. Ultimately, this cultivar did the trick when I came down to the smoke leading to some captivating medicinal effects.
The onset of medicinal effects in which the Slurricane IX created were exceptionally balanced. Settling in around the tail end of the sesh, they hit with a moderate potency. While I did feel a looseness within my limbs (upper body and lower) I also felt a slight mind-racing feeling with an extremely increased awareness to my surroundings. Over the course of the next thirty minutes, I became mildly sedated but I noticed this gave me a bit of creativity within thought and other cognitive skills. One of the past Saturdays we had some friends over and I couldn't help but notice how easy it was to navigate a conversation while under the influence of this cultivar.