Strain Review: Ms. Drizzle by High Winds Farm
I'm gonna do a review of the Ms. Drizzle from @highwindsfarm.
Lineage/Genetics: Unknown
Original Breeder: High Winds Farm
Grower: High Winds Farm
Dispensary: Tetra Cannabis
Ms. Drizzle Strain Review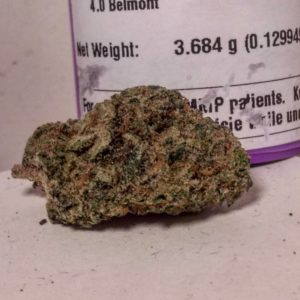 I got the Ms. Drizzle on a whim when the manager at @tetra.pdx recommended it. They've been carrying a number of options from @highwindsfarm lately, and I've been generally impressed with the quality.
As you can see, the nugs are rather unassuming, but they carried a pretty strong eucalyptus scent. Like HBP, it's woody, but it lacks that brightness. The bright, citrusy notes are replaced by some more foresty woods and earth. While there's some notable pine elements to the Helen, Ms. Drizzle was far heavier in that department to me.
The high was less active, but it still was a decent start to my day when I didn't have much to do. Dense nugs like these tend to make me cough more, which is what happened here, too. I really liked it for walking around Cannon Beach, but it has been equally well suited to enjoying the Xbox 360 game collection I'm building.
Ms. Drizzle is a solid offering at a lower price that'll still provide some similar flavors and really enjoyable effects. Try one out.
#thehighestcritic #strainreview #strainreviews #weedreviews #420review #portlandcannabis #OMMP #portlandweedreviews #MMJ #oregoncannabiscommunity #portlandcannabiscommunity #oregonweedreviews #Medicate #oregoncannabis #PNWStoners #PDXcannabiscommunity #pdxcannabis #pdxstoners #cannabiscommunity #cannabisreviews
Advertisements