Strain Review: Helen Back Pinesicle by High Noon Cultivation
Both of my most recent morning smokes have been somewhat woody and leaning toward eucalyptus in their own separate ways. Just for a little change up, I'm gonna do a review of the Helen Back Pinesicle from the lovely people at @high_noon_cult.
Lineage/Genetics: Animal Cookies x Georgia Pine
Original Breeder: Swamp Boys Seeds
Grower: High Noon Cultivation
Dispensary: Tetra Cannabis
Helen Back Pinesicle Strain Review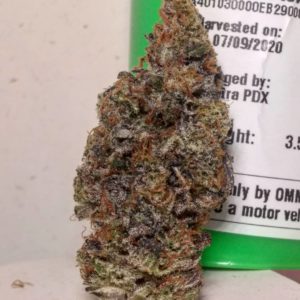 Helen Back Pinesicle is one that only made it into our market over the past year or so, but it's a real treat. It's got a complex aroma I can only describe as "bright". Big hits of pepper mix into fresh cut eucalyptus and citrus woods to my nose. It's not a usual citrus for me. Closer to a calamansi than lemon or orange.
It's an active one for the morning. Not the kinda strain that's gonna put you back to sleep or fuck up your morning, but it's also not a super energetic sativa that might prone individuals some anxiety. Generally a solid medicinal strain if you're having nausea or fatigue issues, but you can't handle too much of a jolt.
I think these two represent a little something for everyone. They're on two different price tiers, and the quality difference is reflective of that. The Helen is one that'll satisfy the terp snobs and noobs alike.
#thehighestcritic #strainreview #strainreviews #weedreviews #420review #portlandcannabis #OMMP #portlandweedreviews #MMJ #oregoncannabiscommunity #portlandcannabiscommunity #oregonweedreviews #Medicate #oregoncannabis #PNWStoners #PDXcannabiscommunity #pdxcannabis #pdxstoners #cannabiscommunity #cannabisreviews
Advertisements