Strain Review: Pineapple Kiwi by Phyre
My friends at @tetra.pdx have the grand opening for their new N Williams location coming up soon. In honor of that, I have a double feature review so people can get a little idea of the stuff Patrick is getting on the shelf. I should mention that the location is open currently, they're just getting the grand opening done now. Swing by whenever.
First, I have Pineapple Kiwi from @lightyourphyre. They're a farm that Tetra has carried extensively. For a long while they were one of the best budget farms around. As they've grown more popular, including some @happycabbagefarms collabs, their flower has gotten a bit more expensive.
Lineage/Genetics: Unknown
Original Breeder: Unknown
Grower: Phyre
Dispensary: Tetra Cannabis
Pineapple Kiwi Strain Review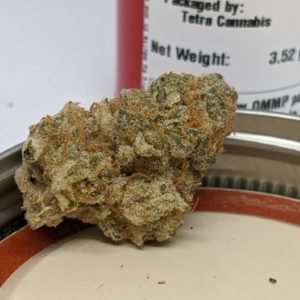 The biggest thing I can say about the actual flower is that it smells like a straight up fruit cup. Sweet, bright, and fruity. Tropical and orchard fruits rather than citrus or berries. Seriously like you're opening up a cup of fruit cocktail The high leans toward relaxing hybrid. It's not stoney or buzzy, just kinda chill and euphoric. It's one I'd buy without thinking much about it.
#thehighestcritic #strainreview #strainreviews #weedreviews #420review #portlandcannabis #OMMP #portlandweedreviews #MMJ #oregoncannabiscommunity #portlandcannabiscommunity #oregonweedreviews #Medicate #oregoncannabis #PNWStoners #PDXcannabiscommunity #pdxcannabis #pdxstoners #cannabiscommunity #cannabisreviews