Strain Review: Supa Durban by Deep Creek Gardens
Continuing my Durban Poison kick, today I have a cross of two classic sativa's for your reading pleasure. Supa Durban, a cross of old school Durban Poison and a Super Silver Haze F3 from @deepcreekgardens, came heavily recommended to me and didn't disappoint.
Lineage/Genetics: Durban Poison x Super Silver Haze F3
Original Breeder: Dynasty Genetics
Grower: Deep Creek Gardens
Dispensary: TreeHouse Collective
Supa Durban Strain Review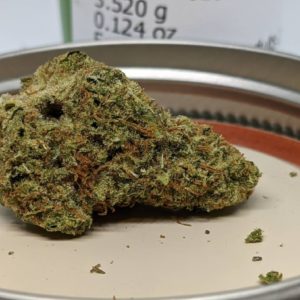 This is a situation where a cross really exemplifies a 50/50 split of both parents. Lemon and lime zest comes through from both, but the sort of astringent, almost chemical quality common to Durban is thoroughly mellowed. The citrus zest note is the most dominant by far, it's clearly a limonene heavy profile. That said, when I really get in there I can find a hint of pine tree that's super common in Haze strains. Like, if "sativa" had a smell, this would be it.
It's got a very stimulating high. It's not a low eyed, sativa. It's very much the coffee substitute, perfect for the morning Energizer of a smoke. To be honest, that's not exactly my favorite, but I can appreciate it when it's done well. I find it easy to overconsume and get a little too high without realizing it. If that's a problem for you, I've learned to hold myself to just a couple bong rips or a small joint, as opposed to the wanton dosing I do with other strains that I have more wiggle room with. I'm glad to have this in my medicine cabinet, so I definitely recommend learning to meter your dosing as opposed to skipping this entirely.
I get a lot of requests for farms to review, but none more than Deep Creek. They're a favorite for many both on the retail and consumer end. For a long time they ran exclusively @dynasty_genetics, but I guess they're moving into some of their own breeding work. They have quite a few strains well dialed in, so someone looking for consistency and quality is gonna be well served buying their flower. I pretty much just look for their stuff at @thc.pdx, but there's an ass ton of shops carrying their stuff across the state. I'm gonna be hunting for both their Platinum Huckleberry Cookies and their Double Decker in the coming weeks to try to get them more into my regular rotation. As I try to diversify my content, I'm hoping to get to more of your requests and suggestions, so please keep them coming.
#thehighestcritic #strainreview #strainreviews #weedreviews #420review #portlandcannabis #OMMP #portlandweedreviews #MMJ #oregoncannabiscommunity #portlandcannabiscommunity #oregonweedreviews #Medicate #oregoncannabis #PNWStoners #PDXcannabiscommunity #pdxcannabis #pdxstoners #cannabiscommunity #cannabisreviews