Strain Review: Koffee F5 by Green Source Gardens
As I've gotten more familiar with the local cannabis scene, I've come to appreciate more and more the small, hidden gems. The random lines that have been worked extensively by the breeder and grown by the farmer for years. That's basically what this Koffee F5 from @greensourcegardens is.
Lineage/Genetics: Alien OG x Alien Kush
Original Breeder: Pacific NW Roots
Grower: Green Source Gardens
Dispensary: Natural Wonders Oregon
Koffee F5 Strain Review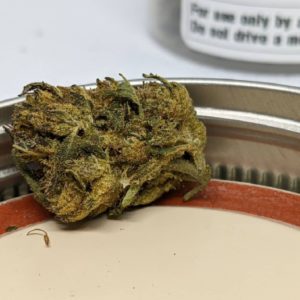 To be honest, I was surprised to like this as much as I did. I believe that harvest date was accurate, meaning I'm smoking on weed from a year and a half or two years ago and don't hate it. I got this stuff for 30 a quarter, and it's been fantastic for that price range. I'd describe it as overall "outdoorsy", but there's nothing wrong with that.
These folks have their biome pretty well figured out. They do some kinda crazy hugelkultur regenerative farming. The buds they put out don't have traditionally pristine bud structures or bright trichomes, but they have this greasy resin coverage and surprising flavor. Their curing process is also remarkable, because this has held up quite well for a couple months of opening the dram every couple days.
The smell is very earthy. I've described the weed to friends as "aggressively outdoor smelling". Earthy, with a sort of savory kush smell underneath. No fruit or brightness, just that dank, kinda chocolatey mushroom note some kush strains have. I'd be really interested to see how the flavor would develop if you washed this into hash.
The high is on the relaxing side. It has a chill hybrid vibe to it. I bought this because I'd been meaning to try it for a while, but it's become some of my favorite joint weed to cropdust my neighborhood with. It's surprisingly smooth, especially for being two years old.
I really like this stuff for the price. I'm glad I got around to trying it. If you want to, hit up @naturalwondersoregon. I grabbed it for 30 a quarter, and it's well worth that price.
I should also mention that this is also a staple for the breeder, @pacificnwroots_. If you want this for your garden, I believe they have Koffee F7 seeds in the seed banks currently, amongst others.
Definitely worth considering.
#thehighestcritic #strainreview #strainreviews #weedreviews #420review #portlandcannabis #OMMP #portlandweedreviews #MMJ #oregoncannabiscommunity #portlandcannabiscommunity #oregonweedreviews #Medicate #oregoncannabis #PNWStoners #PDXcannabiscommunity #pdxcannabis #pdxstoners #cannabiscommunity #cannabisreviews
Advertisements