Mondelez forces namechange on The Strain Formerly Known as Oreoz (Oooze)
The latest consumer product good company to fight back against their IP being parodied by the cannabis industry is Mondelez International the company behind the OREO cookie. The cannabis breeder who originated the Oreoz strain – 3rd Coast Genetics confirmed via email that Mondelez International's legal team reached out and as a result, the strain formerly known as Oreoz is now known as Oooze.
A history of forced strain renames
The first such headline to this effect came in 2015 when Girl Scouts of America sent a cease and desist letter to a dispensary in Colorado to stop the institution from selling the Girl Scout Cookies strain. The Girl Scout Cookies strain has since been abbreviated to "GSC" and nobody else has had legal issues.
In 2017, the makers of Gorilla Glue went after GG Strains LLC and the result was that GG4 became renamed "Original Glue."
Most recently, Mars Wrigley went after Terphogz for Zkittlez – which has resulted in that cultivar being called The Original Z now. That case has since settled.
Is an Oreoz Strain Review Trademark Infringement?
It's probably pretty clear cut that the creators of these strains intended to benefit off the name recognition. That and the litany of past precedent really makes this a pretty open and shut case. What's interesting though is that Mondelez International has hired an IP protection firm called INCOPRO which is sending out trademark infringement complaints willy nilly.
Not only did Mondelez International send a trademark infringement notice to 3rd Coast Genetics. They're also sending copyright infringement notices to websites that have written about the Oreoz strain. In fact, this site has dozens of reviews on the Oreoz strain and it's one of those reviews that landed THC with its first trademark infringement complaint.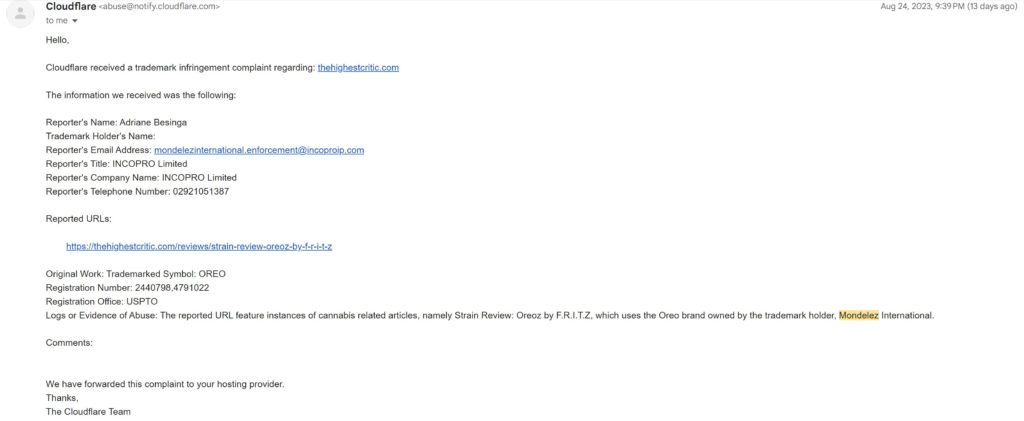 I don't believe that the Oreoz (Oooze) strain reviews on my site are infringement. Seems like free speech to me. Despite that clear delineation between selling Oreoz the strain and writing about Oreoz the strain, The Highest Critic was forced by our hosting provider to remove the content during the appeals process.
This is the strong, censorious arm that is wielded by corporations. Unveiled threats and a bureaucracy that literally assumes guilt instead of innocence. Regardless of how I feel about this personally, the strain formerly known as Oreoz is now Oooze and THC is able to share this news because we were served.
Featured image taken by Caleb Chen at Raley's.
Advertisements