Vape Review: Lemon Glue Disposable by MÜV Florida
Lemon Glue- Hybrid
Lineage/Genetics: Lemon Skunk x Canadian Glue
Original Breeder: Trinity Seeds
Grower: MÜV Florida
Processor: MÜV Florida
Dispensary: MÜV TAMPA
Lemon Glue Disposable Review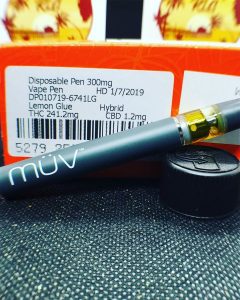 Thc: 241.2mg
Recommended time of use: I would say anytime of day, except for when you are trying to go to sleep, because this strain Atleast for me, made me hyper and outgoing.
Head: this pen really got my my head going, as it made me think of a million different things, without making me feel anxious nor overwhelmed, which I particularly liked because I like thinking things from different perspectives and point of views, and this pen really helped with that.
Body: my body was not fully relaxed, so I had full control of my body, with a slight numbing feeling which honestly allowed me to go about my day without feeling any type of discomfort.
Creativity/talkative: this pen suppressed my social anxiety to the point where i was trying to be very interactive with any person that I came into contact with, I really like being able to freely speak my mind without having a little voice inside my head asking "I wonder what they think of me" all the time
Hunger: hunger levels were kept low, I only needed a light snack, yet I think I felt hungry because I needed to drink water, so me eating the snack was me just being me and eating everything I see .
.
.
.
.
Ignore hashtags 😅👎🏼
.
.
.
.
.
.
#sunshine #cannabis #cannabiscommunity #sunshinestate #medicalmarijuana #marijuana #mmj #florida #miami #miamibeach #review #indica #sativa #hybrid #cbd #thc #altmedflorida #instaweed #instapic #insta #instagram #instaphoto #pictureoftheday #picoftheday #pictureday #photography #followforfollowback #follow #MÜVTAMPA
Advertisements