Strain Review: Jack Herer by TruFlower
Truflower- Jack Herer – Sativa
Lineage/Genetics: Haze x Northern Lights #5 x Shiva Skunk
Original Breeder: Sensi Seeds
Grower: TruFlower
Dispensary: Trulieve
TruFlower Jack Herer Strain Review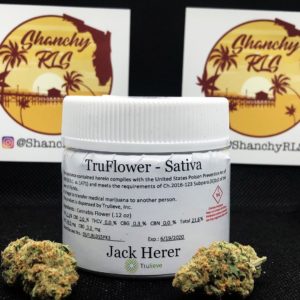 Thc: 21.3% Cbg: 0.3%
Recommended time of use: This is your GO TO morning wake and bake strains. Such an uplifting and happy high, does not get you sleepy.
Head: This strain gave me a lot of positive thoughts and improved my mood, defiantly great for someone feeling gloomy. It did get my thoughts flowing, but somehow they were just happy thoughts, no negative things or beating myself up as they say.
Body: Not much relief from spasms or body pains, but it's expected of a sativa as they are not much on the pain relieving side.
Creativity/talkative: I was so talkative, but I think it made me a little too hyper as I would start doing something get distracted and start something else xD not that there's anything wrong with that, but just beware.
Hunger: I did not really feel hungry, more of a cotton mouth feeling that took a lot of water to get over.
Who remembers these @trulieve_fl containers? .
.
.
.
.
#indica #maryjane #weedporn #dabs #productreview #life #cannabiscommunity #ganja #reviewer #cannabisculture #smoke #fiction #releaseblitz #highlife #dank #high #stoner #sativa #instareviews #kush #cbd #hightimes #smokeweedeveryday #marijuana #420 #reviews #livelynose
Advertisements