Concentrate Review: Oregon Lemons Shatter from Trulieve
Oregon Lemons Shatter – Hybrid
Lineage/Genetics: Lemon Diesel x Face Off OG Bx1
Original Breeder: Archive Seed Bank
Grower: TruFlower
Processor: Trulieve
Dispensary: Trulieve
Oregon Lemons Shatter Review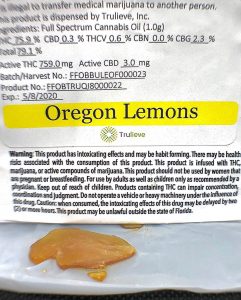 THC: 75.9% CBG: 2.3%
Recommended time of use: If you have a high tolerance, I would use at anytime of day, but if you are not a veteran at taking dabs, I would leave this particular one towards the late afternoon, as It will knock you on your behind pretty fast. As its effects onset rather quickly and before you know it you have that thought " dammmn I'm high"
Head: It's a fast acting, and kind of distracting strain, with that said, if you've had a stressful day, this strain will ease your overthinking, and possible negative thoughts as it slowed mine down, to a minimum.
Body: I like this strain because it calmed my spasms down, without getting me excessively tired and sleepy to where you fall asleep without realizing and then you wake up and the tv is playing, the lights are on, you're fully clothed in bed and are confused.
Creativity/talkative: I would say this is an inbetween and would depend on your mood throughout the day, as it will not really change your mood but rather it will make things tolerable, so if you were having a good day, you will become more outgoing, but if you were not having a good day whatsoever, you will be at peace not necessarily talkative or creative.
Hunger: This one hit very hard, but then again I eat a lot too when I'm medicated, food just taste amazing.
⁣
.⁣
.⁣
.⁣
.⁣
.⁣
#cannabisculture #hightimes #stoner #cannabiscommunity #weedlife #highlife #high #bong #smokeweedeveryday #ganja #stoned #sativa #medicalmarijuana #weedporn #kush #420daily #420photography #highsociety #dank #indica #marijuana #maryjane #dabs #smoke #influencer #alternativemedicine #truconcentrates
Advertisements