Strain Review: Mac 10 by In House Genetics
Mac 10
By @hollowtips__california @hollowtipscalifornia
Gifted by @son_of_washington
Lineage/Genetics: Miracle Alien Cookies bX1
Original Breeder: In House Genetics
Grower: Hollowtips California
MAC 10 Strain Review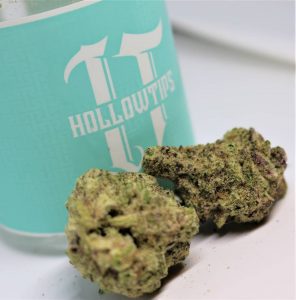 Appearance – As soon as I unscrewed the lid of the jar what awaited me was a 5 gram jar of mostly medium to large sized buds with some small thrown in the mix, instanly I notice this heavy frosty sugary layer of trichs completly coating the entire flower, it was like an avalanche had occurred and it just coated everything in its path. You can ever so slightly see a mixture of orange and red hairs but they are are hard to makeout due to the insane amount of thrichomes on this plant, the snowy layer gives the outer layer of the nugs this blondish glow and the green tones are a beautiful grass green, a mix of lavish deep purple veins start at the base of several of the buds and carry out blending into a very unique bud structure that is just awaiting to fill my lungs with this fine craft exotic.
Smell – The first sniff out of the jar was a very interesting mix of a musk that filled my nostrils with scents of a very smooth a creaminess mixed with a almost slight berry fruit that married nicley with a cheesy skunky funk and finished off with a old basement must.
Taste – My inhale of the bong hits blessed my palette with a smooth sweet taste that carried a slight purple berry mixed with that cheesy skunk and tappered off on the back end to a sweet earthy pine berry hashyness, the exhale was equally as smooth an was similar in flavor as the inhale but leaned a little more to the piney peppery hash taste.
Effects – Right as the very first rip that I exhaled the buzz began picking up in the top of my head and streatched to my forehead with a slight jolt of energy, after the second hit my I felt my entire body relaxed but my head remained to have a very strong clear zing building as I packed up another bong snap. After that third one I was completly floored with the pedal stuck to the ground, the kind of stone where your talking to somebody but your staring at the wall directly behind them, as i attempt to write i am overthinking what I am trying to describe and after about ten to fifteen minutes in that racyness subsided along with all my muscle aches as well. I am feeling the nice gentle tingly waves of warmth traveling through my entire body as I am floating on cloud 9 in complete bliss.
If you are new to cannabis start of slow and see how she does you and if you have bad anxiety this may not be the one for you, for veteran status tokers I assure you you will love the flavorful high grade exotic smoke that awaits you in this jar.
We can't even appropriately rate this cut at 5+++++ stars because this strain is the fuckin tits!!!!!
It's absolutely off the charts, to @hollowtips__california @hollowtipscalifornia whatever you are doing to this plant over there keep up the amazingly 🔥 work, this cut hit me different everytime I smoked it depending my mood and the time of the day, but everytime it smacked hard,burned clean white ashes and hit me with a clean quality high that I enjoyed over and over again,truely a fine work of art. Also a huge congratulations on being apart of the Oscars nominee gift bags with your gold vape 🙌🙌🙌💯, Thank you for providing a truely connoisseur experience with this cut of Mac 10, cant wait to see what you got dropping next🤙
Big thanks to @son_of_washington and @trustinpdc for gifting this exclusive and truely amazingly crafted cannabis. Have a great night everybody, stay medicated!👍😤💨💨🦖
Advertisements