Strain Review: Don Johnson by Pax Genetics
Don Johnson – @paxgenetics
Nose: Earthy, evergreen, cat piss, sweet, piney, floral, fuel
Inhale: Sweet, earthy, piney, rubbery, fruity/citrus, creamy, gassy
Exhale: Ginger, musty, earthy, burnt rubber, chem
Lineage/Genetics 🧬: Don Juan x Pure Michigan
Bred by: Freak Genetics @freak.genetics
Cultivated by: Pax Genetics
Terpene Profile: Unknown
Don Johnson Cannabis Cultivar (Strain) Review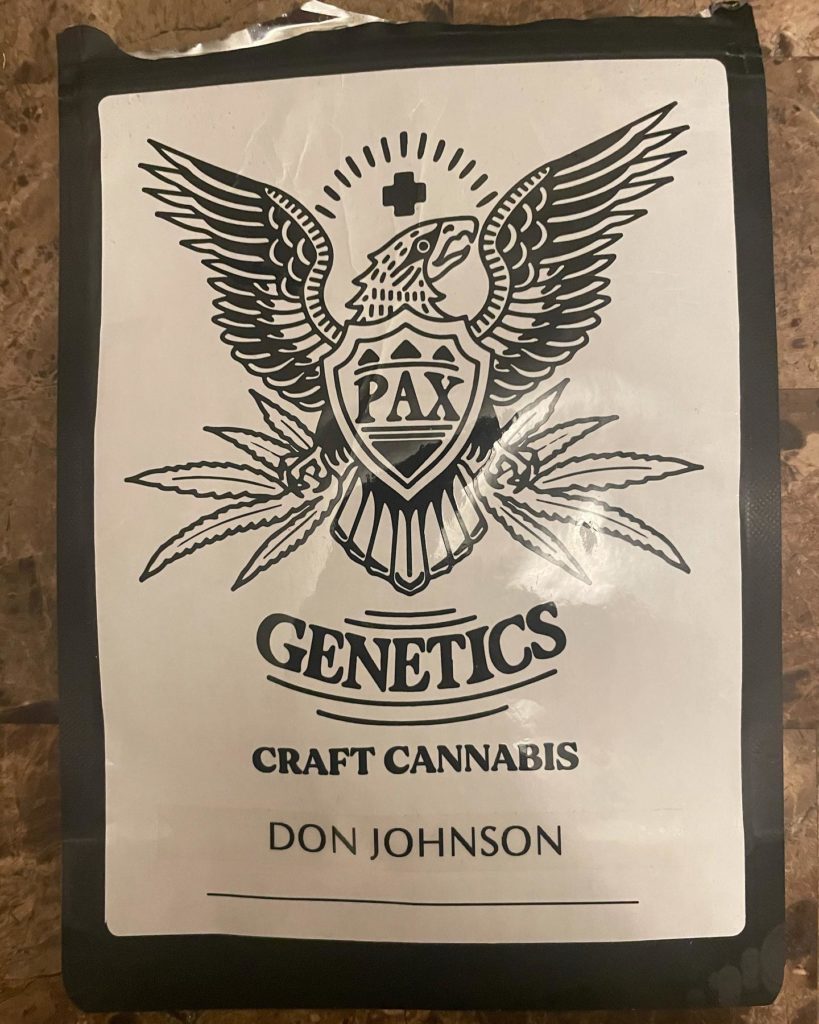 Hey what's up everyone? I've been pretty tied up with life as of late although I felt as if a review was in order for this week. I wanted to share with you all a recent pick up from Pax Genetics when I was back in Worcester one of these past weekends. After receiving a phenomenal care package from him back in November, I was eager to check out the Don Johnson he recently ran. Not knowing too much about this cultivar ahead of time, I eventually learned that it consisted of a cross between Magic Don Juan (Don Mega x unkown cultivar) and Pure Michigan. Right from there, my implications that this would be loaded with gas became strong. At the time of receiving this, it felt good to switch things up a bit as I feel like I've been going through an excessive candy kick more than usual lately. Additionally, I know a lot of these cultivars can test the tolerance levels so I was actually excited to receive this one. As I mentioned, it was kind of a "no brainer" since Pax has been crushing a lot of the stuff he's putting up as of late as well as flooding the area with some fire. Let's waste no more time and get into the facts!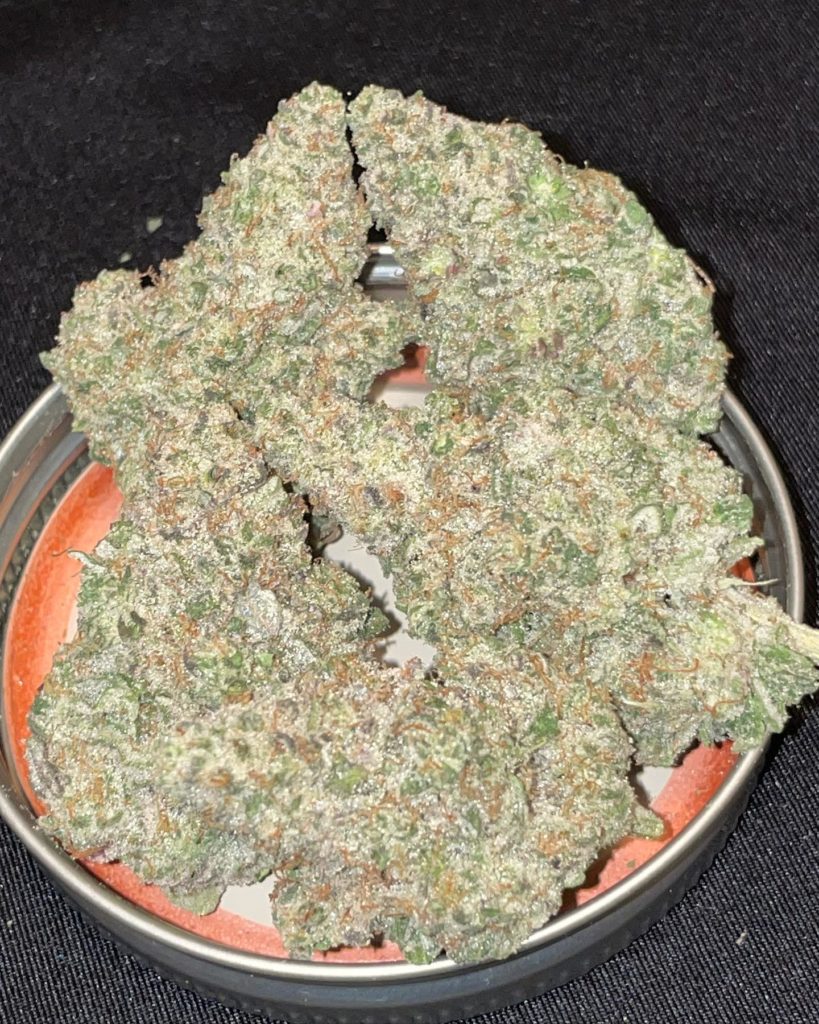 Upon receiving the Don Johnson, it came sealed tight in one of Pax's branded, ounce-sized mylar bags. My fiancé even made a comment and said "I get excited for the weed when I see the eagle" which, in turn, made me crack up. Proceeding to tear the seal off and opening the bag in front of Pax, I agreed with his take that this resembled a nose of Durban Poison. Furthermore, this cultivar produced a fresh evergreen and cat odor that gave it a moderate level of gasiness on my first impression of it. After a few seconds that scent faded into a sweet cream back end. The nugs looked great pulling them out of the bag and consisted of huge nugs with long, pointy colas that made up the structure on each one.
Thick lime green hues with scattered orange pistils with an occasional spot of purple made up the appearance of the Don Johnson. The nugs were powdered with a healthy dosage of triches displaying a frosty, disco-ball like aesthetic when held. Once in hand, they were dense which did not match the crispy, rugged interior this cultivar possessed. This is not to leave out that there was a mild stickiness that managed to become sticker once I began to break into one. Breaking apart the nugs shook off particles from the extremely kiefy surface. I felt as if fruitier notes became present after doing so along with notes of sweet floral and fuel. This still contained a bit of gasiness to it as well during this stage. The more I broke into each one my fingers would become absolutely chalked up with sticky kief residue. I'm not going to lie, when breaking down the Don J, I made sure to keep some hot water and Zep soap near because it required the jaws of life to scrub off. Breaking down the buds proved to be super easy as well as effective doing it by hand. On top of that, the yield was righteous as well. Once broken down, this cultivar exhibited stronger notes of floral but retained the sharp evergreen smell present in solid form. The dry pull on the joint was very tasty, giving off a heavy taste of evergreen and citrus notes that gave it a rather fruitier back end than expected.
When I sparked the Don Johnson in an Element Paper, it took me a few pulls to really get into the flavor. My first impressions on the inhale was a sweet, earthy overtone that engulfed the interior of my mouth. Additionally, there were detectable traces of pine and rubber that, in essence, didn't give this cultivar a wide variety of flavor early on. On the way out, the follow through loomed with a thick taste of must that, when dissipated, gave off tingly notes ginger. The more I hit the joint and exhaled, the more prevalent the ginger taste became. Generally speaking, it was tough to notice any supplemental flavor given off by this cultivar due to the absurd amount of earthy and pine terps it provided. As I rounded towards the halfway point in the sesh, mild and generic fruit terps entered my palette. I kept reading speculation about "Papaya God" being the unknown strain in the lineage of the Don Juan Magic (the parent). I wonder if this had something to do with the light, but odd, fruity fuel flavor I was pulling in at this point.
Additionally, there were creamier undertones after that heavy load of pine I would usually pull in about halfway in. For some reason, the notes gave me a vibe similar to that of Kush Mints but with less flavor at this time. The more the sesh progressed I felt like I was pulling in different flavors but losing out from the overall flavor a little more each time I took a pull. Attributing to this, the burn wasn't necessarily the best I've experienced. First, there were periodic moments where the joint would go out unexpectedly and, secondly; some pulls after relighting the joint felt as if I was sucking a golf ball through a straw. In addition to this, the ash burned on the darker grey side whereas the terp ring was minimal. While the pulls remained fairly strong even in the later stages of the sesh, I still felt that the terps on this cultivar were dying out. Even those once fruity fuel notes accompanied by the creamy backend on the inhale disappeared into merely a plain taste of pine. Truth be told, this wasn't my favorite although I can't discourage it a full 100%. I thought there were instances that this cultivar shined a little light but the lack of consistency flavor-wise along with the disadvantages regarding how it burned are where my gripes lie.
In regards to the medicinal effects the Don Johnson featured, they were decent. The onset of them hit towards the end of the sesh, right around the time when this cultivar started to lose its flavor. A head rush came over as a result of some of the coughing I did due to some of the more pressuresome pulls. While this managed to leave me with a mild raciness, I had no issues keep my focus on track as this cultivar tended to enhance my perception. Over the course of the next 20-30 minutes, I continued to lock into my surroundings. As this slightly enhanced my mood as time went on, I preferred being left alone in my zone when off the effects of the Don Johnson. This was actually a go-to for me if I had a task that needed quick fixing or any situation at hand where my problem solving skills were put to use.
Within an hour or so into the onset of effects is when the slow-turning body effects heightened. During the mean time, this cultivar worked slowly from my lower body up. This was nothing overly crippling, however, it did a nice job loosening up those tense muscle and joint areas. I remained increasingly focused over time while enduring the effects as this ended up being more than ideal for daytime use. All in all, the medicinal effects from the Don Johnson lasted around an hour and half in total. The potency of effects did the job but I wouldn't say the overall experience was anything more than average high.
After having a chance to try the Don Johnson, I personally thought this was less impressive than any of the previous offerings I've received from Pax. This was mainly due to the gripes I had when smoking it. The Don Johnson stated with promise as its shiny, "disco ball" aesthetics were a sight for sore eyes when receiving. In addition to that, the pissy, evergreen nose this cultivar put out upon first impression made it seem like it had all the characteristics for a flavorful smoke. However, when I did finally lit it up my disappointment stirred. I thought their were some glimpses of flavor not to totally shut this down as well as a pretty sharp gassiness to it. However, the lack of flavor didn't do this this cultivar justice. On top of it, there was inconsistencies within how the Don Johnson burned. Making up for it in a sense were the medicinal effects. I think if you are someone who leans towards a good daytime high this might be for you. Especially if you are trying to lock in focus-wise or enhance those brain receptors this one did just that. Still, I don't think this should take away from Pax's skill in the least as the majority of offerings have been heat. I definitely feel like the more this gets dialed in over time it will have potential to show it's true flavor. This won't be the last you see from Pax either as I will most likely have a couple flavors upcoming from his anticipated drop in March.
Advertisements