Strain Review: Animal Face by Seed Junky
Animal Face by @seedjunkygenetics_jbeezy
Lineage/Genetics: Face Off OG x Animal Mints
Original Breeder: Seed Junky Genetics
Grower: Seed Junky Genetics
Animal Face Strain Review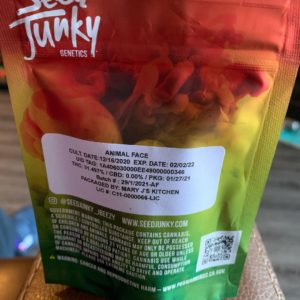 First things first, this was before I decided I could do better in terms of pictures (and reviews as a whole). With that being said let's get down to the review.
As always, I like to start with smell and structure. This bud right off the back screams OG in structure and in smell. My bag consisted of two nugs. That's it. The aromas I experienced upon opening the bag reminded me of the Vans store. Rubber soles, or just rubber in general. I also like to describe this classic OG terp as inner tubes, like bike tires. I'm also getting hints of dryer sheet. Not really finding the animal mints in here just yet. But after breaking off a piece and grinding it up, I'm starting to get little notes of sugary cookie dough funk. Speaking of breaking up the bud, which was hard to do by hand, this is when I noticed this strains immaculate cure. With great moisture, this bud snaps away from the stem perfectly but it is super sticky. Like rat trap glue sticky. I'd imagine it would pass any stick test you are willing to put it through. It left quite the residue behind on my fingers.
Now I have to say I was not able to put this strain through the heat wand test because I was in between wands at the moment I received this eighth. And if you can't tell already, I really like this strain and smoked it up pretty quick. Nonetheless, the flavors I experienced while enjoying this strain were pleasant. A little more of the sweeter sugary dough notes came through in both the bong and in papers. It was faint but still present. I also experienced notes of citrus, burnt rubber, and dryer sheet. One of my favorite terpene profiles.
If you love OG, like I do, you will love this strain. It has all the best aspects of a good OG with a little added extra. This includes its effects. I experienced a pretty heavy indica leaning high that started behind the eyes and filled the rest of the body with relaxation. I had some serious couch lock going on. @seedjunkygenetics_jbeezy usually brings the heat and this was no different. 🔥🤘🏽🔥🤘🏽
#seedjunkygenetics #animalface #og #review #cannabisreviews #maryjane #weed #norcalstoners #christianlovescannabis