Strain Review: Ruby Red by Insane OG
Ruby Red by @insane.og
Lineage/Genetics: Unknown
Original Breeder: Unknown
Grower: Insane OG
Ruby Red Strain Review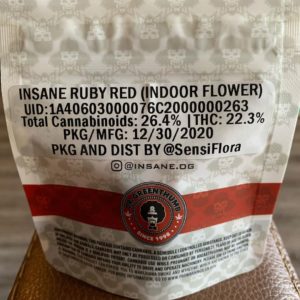 Insane is another company that I've heard a lot about but haven't had the pleasure of experiencing. Instead of picking a strain I'm familiar with, I decided to go with one I haven't heard of yet. That brings us to Ruby Red. I am unsure of its lineage.
Right away this strain reminds me of brunch. As I open the bag, notes of grapefruit juice and blueberry pastries fill my nose. But there's more. I also pick up wintergreen, pine, candy and some floral perfume as well. After a few days I'm also noticing some hints of diesel. After grinding some buds up, the sweeter notes are brought to the forefront.
The buds cure and structure are top notch. Dense, "hardball", very sticky buds. While leaving behind a sticky residue, I found this bud easier to hand grind then others that are as sticky as it is. With that being said, it was also a very easy material to roll up. It practically rolled itself.
After smelling this bud for what seemed like too long, it was time to get down to the taste test. First up was the heat wand. My first hit brought rainbow sherbet to mind. Creamy citrus with a hint of gas, followed by a creamy candy like after taste. When I switched over to the hemp wick citrus became the main terpene I was tasting. Also a little less creamy and a little more gassy. Now when I smoked the strain in papers the palate changed and got more complex. That creamy and citrusy rainbow sherbet was still there but a very strong lavender soap terpene showed up on the back end. It was really hard to ignore. I was quite surprised on how that terp seemed to escape me before. Either way I'm here for it.
The high on this one I would compare to a jack herer, mostly even hybrid with a little bit more of a head buzz. Nothing too clouding or race-y. With this being the first time I tried out @insane.og I was very happy. I'll be on the look out for more from them. With a name like @insane.og , I think I'll be looking for the OG next.
#insanecannabis #insaneog #hybrid
#reviews #cannabisreviewer #christianlovescannabis #maryjane #weed #norcalstoners #realmedicine