Strain Review: Supernova by North Country Pharms
Supernova (smalls) by @northcountrypharms
Lineage/Genetics: (Lemon Fuel OG x Unknown)
Original Breeder: Unknown
Grower: North Country Pharms
Supernova Strain Review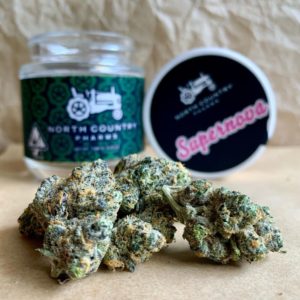 I wanna start off by saying that for smalls, some of these nugs are just as big as some of the top companies normal eighth jars. There's a discrepancy in the industry about what should be on the top shelf but that's for another day.
First thing that I smell when I popped this jar open was an empty Brita pitcher. I don't know if it's the jar itself or the curing process but I've found this common smell amongst other strains from this company. Once I get beyond that smell I pick up notes of burnt lemon peels, gas, caramel, and cherry pez. The after grind smell is citrus and gas with a hint of earthy-ness. These buds are very pretty. Very well manicured and the cure on them is nice, slightly on the dryer side though. The bud breaks up pretty easy.
To me, Supernova has more flavor than smell. When I smoked some using my trusty heat wand I got flavors of sour citrus, gas, and cherry cough syrup with a peppery finish. The hemp wick brought out a little sweeter candy like tone along with the gas and citrus. The #raw papers brought the floral terpenes to the front, followed by gas and candy. A citrus back end followed with this fairly thick smoke. I preferred the heat wand or papers with this one.
The effects that I experienced from the Supernova were very classic OG effects. Strong head high with temple pressure that flows into the chest and body. Spacey, zoned out and relaxed are some words I'd use to describe this high. As far as @northcountrypharms this isn't my first experience but this was a strain that I did actually enjoy. Thanks to your team for killin it!!
#supernova #lemenfuelog #hybrid #cannabisreviewers #cannabisreviews #christianlovescannabis #norcalstoners