Strain Review: Bubba Diagonal by North Country Pharms
Up next is the Bubba Diagonal from the fabled farms of North Country Pharms. Leave it to a weed strain to remind me that I don't actually know how to spell diagonal off the top of my head. I do now.
Lineage/Genetics: Triangle Kush x Bubba Kush
Original Breeder: Grassroots Cannabis
Grower: North Country Pharms
Terpene Profile: Myrcene Dominant
Myrcene .13%
Limonene .1%
Bcary .09%
Ocimene .08%
Bubba Diagonal Strain Review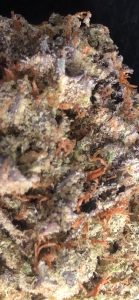 Nugs be subtely purple-y and the bud structure is pretty much prototypical kush. It's not in the name, but dagnabbit this is a kush. Or at least closely related enough for me to snap on a snapback and throw on the throwback Bubba Kush by DFD while smoking it.
The first time I opened the jar I was greeted with an extra earthy kushy smell but still that tinge of Florida orange citrus. After some time, that smell evolved to become more well rounded to include some floral and fuel notes. The ground up kush smell is light and inviting.
A very relaxing high for the body and mind. I can barely muster up the wherewithal to type, let alone formulate long sentences on the fly. What I do have motivation for though, is food. Cooking, prepping, actual eating – it's not like the energy isn't there, I just don't have an 8 track mind. 1 or 2 if I'm lucky.
The MUNCHIES hit HARD with this one. 
Here's some quick maths: If you start standing up being vertical, then you smoke bubba diagonal and munch, you might just end up horizontal in a food coma.
Said another way: I like this one all the time but especially before meals. Call it an appetizer if you will.
Certificate of Analysis (COA): https://share.confidentcannabis.com/samples/public/share/7604ea53-32c6-40a2-8421-a55b64b9ad77
More info: https://www.northcountrypharms.com/