Strain Review: Dosickey's by North Country Pharms
Here we have an original strain bred by North Country Pharms: Dosickey's.
Lineage/Genetics: Dosidos x Bickeys Revenge (Birthday Cake OG x Sour Lemon Larry)
Original Breeder/Grower: North Country Pharms
Terpene Profile: Beta-caryophyllene Dominant
Bcary .1%
Limonene .1%
Ocimene .08%
Dosickey's Strain Review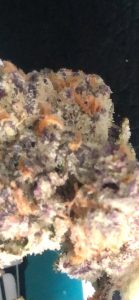 Bud had candy tones when I first got it, but after about a month of additional curing, a subtle sour floral funk really came out. The most interesting man in the world might call it the most interesting smell in the world.
Rare to see an almost Ocimene co-dominant Beta-caryophyllene dominant terpene profile – it's usually Myrcene in the mix instead. I like it. I need more of it.
Whether vaped or combusted, the high is the opposite of a creeper. One second during your exhale, you're not feeling it, and the next thing you know you're zooted.
This is the kind of high where I'll take an extra 10 seconds before responding to a query from my fellow human. And it might (probably will) involve a giggle. This is that forget your dinner plans high – do note that your partner may not be as amused about it as you are. Not because you were passed out on the couch, but because you were too engrossed in something else.
To concludeth: pass it this way so I can PUFF PUFF on it. If you see it on the shelves, buy more than one because there's nothing else up there on the shelf that is quite the same.
COA: https://share.confidentcannabis.com/samples/public/share/edaeada1-dabf-465d-8910-9c4a39e196c2
More info: https://www.northcountrypharms.com/