Strain Review: Melonade by North Country Pharms
Melonade as grown by North Country Pharms is a refreshing treat.
Lineage/Genetics: Watermelon OG x Lemon Tree
Original Breeder: Dying Breed Seeds
Grower: North Country Pharms
Terpene Profile: Limonene Dominant
Limonene .27%
Ocimene .18%
Myrcene .15%
Bcary .14%
North Country Pharms Melonade Review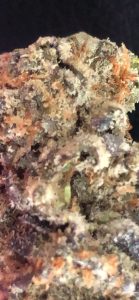 Beyond the citrus notes, the smell is definitely honeydew to me, not cantaloupe. But i can't explain why. It's definitely not the color. There's actually more orange on the nug than light green because of the desert tan trichomes and dark leaves.
Once ground up, a potent stench is released like a fruit burst. Just like with a good ol' melon, the juiciest, sugariest parts are in the middle right by the seeds. Unfortunately, there wasn't a seed here for me to collect. On the other side of the coin, that means all those nutrients that would have gone to producing a seed went to producing cannabinoids, terpenes, flavonoids, and the like instead. And it shows.
When I've toked Melonade, I feel like nothing can bother me. And I definitely feel like time has sloooooooweded down. My body hasn't though. Maybe it's more accurate to say that my perception of time has sped up. #highshowerthoughts
I like it in the daytime but I may have also forgotten to brush my teeth because it tastes so good and lingers so long.
tldr; bring it to the cyph because you'll actually be able to taste it in the blunt. Great all around strain for any occasion as far as I'm concerned.
Certificate of Analysis (COA): https://share.confidentcannabis.com/samples/public/share/c8461d55-1431-40d6-b85b-fa8717c57411
More info: https://www.northcountrypharms.com/
Founder of The Highest Critic
Unpaid /r/trees mod
Certified Ganjier
Kine bud enthusiast
Advertisements