Strain Review: Super Sour Diesel by Amplified Farms
Here we have another oldy but a goody. Super Sour Diesel by Amplified Farms
Lineage/Genetics: Super Silver Haze x Sour Diesel
Original Breeder: Unknown
Grower: Amplified Farms
Terpene Profile: Myrcene Dominant (Myrcene, BCaryophyllene, Limonene, Nerolidol)
Amplified Farms Super Sour Diesel Review (Dec 2021)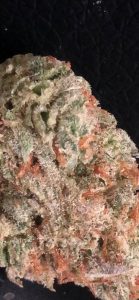 Starts off a little sweet before going full zour. Nary a fruit tone to be found here. I miss this smell. This is my only sour d of 2021, and it really makes me yearn for a bygone decade – just like the Cypress OG did.
Well cured, and broken trichomes with every touch point. I think it's time for me to get some dedicated weed chopsticks. They'd be like the golf pencils of chopsticks, just perfectly sized for eighth jars.
The high presents behind the eyes, and behind the dimples. My face muscles were so relaxed that it felt like I was pursing my lips. How it feels in the body is nothing compared to how it feels in the mind. To me, this is a motivating high.
I didn't get any raciness with this strain and really felt like the background noise faded even further in the background – allowing me to focus on whatever I wanted. What a classic high.
Suffice to say: When I see haze, it's usually a good time. Amplified Farms hit it right!
More info: http://amplifiedfarms.com/super-sour-diesel/
Amplified Farms Super Sour Diesel May 2022 Review
So this second batch of Super Sour Diesel is actually Limonene Dominant.
Top 5 dominant terps are:
D-Limonene: 0.58%
B-Myrcene: 0.44%
B-Caryophyllene: 0.42%
a-Humulene: 0.16%
B-Pinene: 0.09%
Besides this probably being the freshest batch of indoor that I've ever gotten to sample, I'm just happy to be able to experience this. The nose is a little one dimensional, in-your-face gassy from the phenols. You can kind of notice the nuances towards the end but I think more time in the jar will bring that out. I'm going to keep burping this one and see where it goes. Still nary a fruit note which is fine by me.
The high was noticabely racier than the first batch – maybe because more Limonene? – and while I enjoy it in moderation, this probably isn't the cultivar you want to whip out for a first timer. The intensity of the aroma stands out, the dry hits hit hard – even through a dirty bong. I just wanted to note that here is a prime example of the variation that can exist between batches. They're both fire – just different types of fire. The fact that it's hard to do a true side by side just increases the mystique.
I'd say that the nugs got tighter, too. I'm looking forward to the day where someone can sit at a cannabis lounge and order a flight of Super Sour Diesel from four batches stretching back two years. Yeah – two years. I'd smoke it. If you wouldn't, that's cool – at least read about it.
The only way to do a true side by side would be with a time machine because of the aging (degradation) that occurs due to time's arrow's relentless march. Suffice for this followup review to say it's getting even better.
Advertisements