Strain Review: C4 by Fiore Genetics
C4 by @fiore
@realchriswebber first signature strain!
Lineage/Genetics: Triangle Kush x Strawnana
Original Breeder: Chris Webber
Grower: Fiore Genetics
C4 Strain Review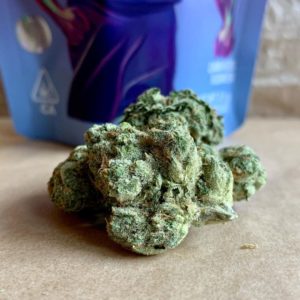 When I first heard about this collaboration I knew I had to get my hands on it. I'm a life long Kings fan and CWebb is like God around these parts. I couldn't wait once I got it, so let's see what I found.
The first thing out of my mouth when I broke this seal was, "Strawberries!". My brain makes me think of opening a new box of strawberry special K. It screams of dried strawberries. Very sweet aroma. As I try to get past it I also find some gas, skunk and citrus peel. After the grind I got more of the triangle kush earthy pepper tones. The nugs have that perfect kush nug structure. Tight dense buds that are pickle green with red hairs and crystals everywhere. The cure was done well on this strain. Good moisture and breaks apart with a good snap sound. When I try and break up the bud by hand I notice how sticky it is. It keeps wanting to stick to itself.
I started off partaking in this strain by packing a decent size bowl into my bowl and lit it with my hemp wick. I have to say this left me slightly disappointed. I was expecting a sweet berry taste or something sweet in general. There were notes of yellow bananas and strawberries but it was faint. The strawberry I could pick up reminded me of gum that was running out of flavor. I mostly tasted peppery earthy kush. I noticed the same thing when it came to the heat wand except it was spicier and also something that reminded me of ammonia. With the joint being my last hope for the flavor I was looking for, I rolled up and prayed to the kush gods. After sparking my j, I let out a, "Yes!", as I finally found the flavor I had been smelling the whole time in the bag. Sweet strawberries. It's actually more reminiscent of strawberry ice cream. I've noticed a creamy aspect in strains with triangle kush before and I really dig it. I could also taste really yellow bananas, pepper, gas and some floral tones. No doubt this is to be enjoyed in a paper.
This strain had one of the most enjoyable highs I've experienced in a while. Clear but tingly head high that runs down to the shoulders and keeps that tingly aspect throughout.
Thanks @fiore I enjoyed this one!
#fiore #c4 #cookiefam #cannabisreviews #cannabisreviewer #christianlovescannabis #norcalstoners
Advertisements