Strain Review: Triangle Kush by Resin Ranchers
So, for 4/20 I wanted to write something I felt fit the spirit of the holiday. I chose the Triangle Kush from @resin_ranchers.pdx for a couple reasons. This strain is a true classic. Many believe this strain to be the first true OG. There's more lore behind the origins of OG than certain aspects of the Tolkien universe, so I won't get too deep into it. The other reason I chose TK is its modern relevance. Even though it's an oldie, it's still a staple for quite a few legendary breeders to this day. 4/20 to me is a day where we can dream about the future of the industry we've all built, but it's important for us to remember those that created the foundation we're building upon and integrate them in any way we can.
Lineage/Genetics: OG Kush (Florida)
Original Breeder: Unknown
Grower: Resin Ranchers
Dispensary: TreeHouse Collective
Resin Ranchers Triangle Kush Review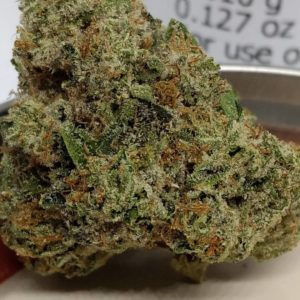 One of the reasons this strain has managed to become a favorite for so many is the smell. Oh that smell. That smelly smell that smells so…smelly. "Gassy" is a common description you'll see for bud, but frankly just about everything pales in comparison to TK. It's a gassy, funky OG stank that's only overpowered by the high.
The high is powerful. God help you if you smoke this during the day. I used to not smoke much OG because it had a penchant for knocking me out in public. I have an elephant's THC tolerance now, so those worries have abated, but I still avoid this stuff if I have anything to do. It's great for potent pain relief after work and generally knocking me on my ass at the end of the day.
I got a chance to chat with the head grower at @resin_ranchers.pdx on the phone the other day, pretty much informally interview the dude, and chat about the story behind a couple of their strains. I was gonna double feature this with the Rainbow Sherb, but I really want to do them both justice. Always look for RR's stuff at @thc.pdx, they're always great.
Have a good 4/20, but consider a donation to the Last Prisoner Project. People are still punished every day for the exact things I'm writing about so fondly here. It's great to celebrate, but don't forget how we got here and what has been sacrificed. Stay safe, stay stoney.
#thehighestcritic #strainreview #strainreviews #weedreviews #420review #portlandcannabis #OMMP #portlandweedreviews #MMJ #oregoncannabiscommunity #portlandcannabiscommunity #oregonweedreviews #Medicate #oregoncannabis #PNWStoners #PDXcannabiscommunity #pdxcannabis #pdxstoners #cannabiscommunity #cannabisreviews