Strain Review: Z-41 by Cali Kush Farms
Z-41 by @calikushfarms
Lineage/Genetics: Gelato 41 x Zkittlez
Original Breeder: Cali Kush Farms
Grower: Cali Kush Farms
Z-41 Strain Review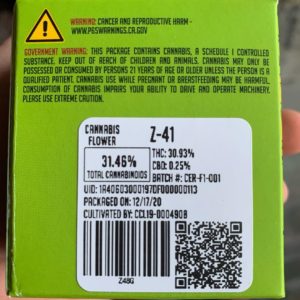 This was my first experience with @calikushfarms and I decided to choose a strain that's a mix of two of my favorites, Gelato 41 and Zkittlez. Let's see what I found!
Let's start with the smell. As I popped open the seal off the jar I'm met with three main terps. Rubber, gas and candy. As I dig deeper I'm able to pick up a little bit of a floral alcohol smell. Kind of perfumey. Also notes of almond milk. After grinding up some buds and smelling the grinder the biggest terp I'm getting is straight burnt rubber with a hint of musky-ness. The aroma I'm getting off this strain is mostly reminiscent of the #41. The bud structure is closer to what I've seen in Zkittlez crosses, soft smaller buds. While dusted in trichomes these buds are not very sticky.
Now that I've covered bud structure and smell, let's talk about the taste. Once again, I did three different taste tests. This will be common now in my reviews. First test I started with was the heat wand. The first hit while using this method brought me notes of dark chocolate covered raspberries, gas, funk, and cream. With a candy like after taste. Very pleasant and complex. When I tried the Z41 in my bong with a hemp wick I got more of the rubber gas terps. Still leaving a candy after taste. My final test, the joint, was my favorite on this strain. One of those that you're smoking all the way to the crutch. The first flavor I got from the joint was candy that's losing its flavor, think runts. I also tasted gas, rubber, dark chocolate, and rubbing alcohol mixed with floral notes.
Last but not least, the high or the effect. I experienced a very heavy head high and a nice mellow body high. I had a wake and bake session with Z41 and it encouraged me to climb right back into bed. This is a very relaxing and sedating strain perfect for a movie night. It's safe to say that this bud was very enjoyable and I'll definitely be back to check out more from @calikushfarms
#calikushfarms #z41 #zkittlez #41 #review #indicahybrid #cannabisreviewer #christianlovescannabis #maryjane #weed #realmedicine #norcalstoners
Advertisements