Strain Review: Strawberry Runtz by pHinest Cannabis
I've decided to dive deeper into my reviews. With that being said I present…
Strawberry Runtz by @phinestcannabis
Lineage/Genetics: Strawberries and Cream x Runtz
Original Breeder: pHinest Cannabis
Grower: pHinest Cannabis
Strawberry Runtz Strain Review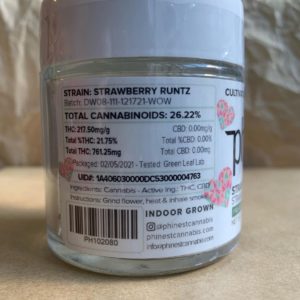 This is my first experience with a strain that was grown from tissue culture. (That I'm aware of)
Let's start with the smell. When I first opened the jar I was presented with a smell of strawberries and cream soda. As I continued to break up a small bud I got a little bit of sour lemon candy and some slight funk. This is where I also noticed it's cure job. Trimmed right and a nice stick to the bud. After grinding up the buds I got more of a chalky candy smell mixed with sweet berries. I also noticed that the material was a little less sticky and more on the dry side.
For taste I did three different methods. First I took a snap out of a clean bong using a heat wand. The flavors I got from that were sour berries and some musk. When I say sour, I mean sour. I had to do it again just too make sure this is what I was tasting. When I used a hemp wick out of the bong, it confirmed these terps for me. Lemon cleaner and funky sour berries. And last but not least the joint test. The taste in the paper started out more enjoyable with a little bit of a sweeter candy flavor. Slightly floral too. As I progressed through the j the more sour and harsher it got, reminiscent to the bong rips from earlier.
The high for me was the best part of this strain. Very relaxing even high that starts in the temple and shoulders. Semi spacey and good for just hanging out. I could see myself getting real creative on this as well though.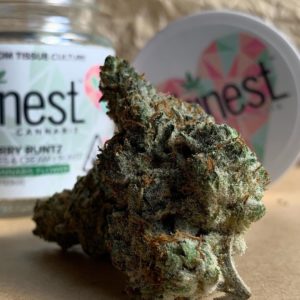 This strain was good enough for me to explore @phinestcannabis some more, but the taste wasn't quite for me.
#phinestcannabis #hybrid #review #tissueculture #christianlovescannabis #maryjane #norcalstoners #realmedicine #weed