Strain Review: Bubblegum Sherb by Seed Junky Genetics
Bubblegum Sherbet by @seedjunky_jbeezy
Lineage/Genetics: Unknown
Original Breeder: Seed Junky Genetics
Grower: Seed Junky Genetics
Bubblegum Sherb Strain Review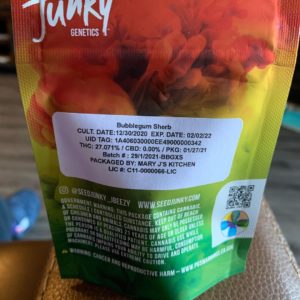 I love @seedjunky_jbeezy so when this strain popped up on the menu I got excited. They are know for having some really strong tasting products. When I opened this bag I'm immediately met with a sweet yet sour smell reminiscent of sour cherries and dried fruit strip. I also get hints of gas, candy and some musky-ness as well. But after grinding it up I experienced more of a sweeter candy (similar to bubblegum) and gas smell.
The cure on this bud is great but as you can see I'm enjoying it a few months after harvest so it is a little on the dry side. It still had good snap to it though when I broke it up. The crystals left behind on my hand were a little more on the dry sandy texture side. After rolling up and sparking my joint, the taste test began. Fairly smooth thick smoke on this one.
This strain was very sour and almost reminded me of children's cough medicine, bubblegum flavored. It also left this creamy after taste in my mouth that was interesting. And last but not least the high, which is a very relaxing indica leaning high. Slight head buzz with lots of euphoria.
The high to me was the best part and the taste to be honest left me wanting more. I think if I had gotten this cut a couple months ago this review would be a lot different.
#seedjunkygenetics #sherbet #indica #hybrid #review #christianlovescannabis #rawlife247
#norcalstoners #maryjane #realmedicine
Advertisements