Strain Review: Greasy Runtz by Redwood Coast Exotics
Greasy Runtz 🛢🏎
Lineage/Genetics: [Runtz X Grease Monkey]
Original Breeder: Exotic Genetix
Grower: Redwood Coast Exotics
Terpene Profile: Unknown
Greasy Runtz Cannabis Cultivar (Strain) Review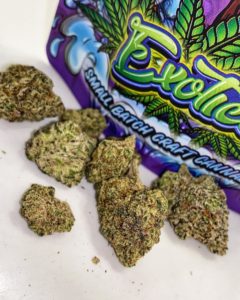 Class: Branded Exotic [NorCal]
Powered and Cultivated By:
@redwoodcoastexotics
Smell | Flavor: Pungent right of the front as you break it open. It's mostly funky with a subtle sweetness, which comes in a bit Gelato-like. You can tell the flower had a nice even dry time, not too moist in breakdown, and as you pearl it up you taste that gas terp with some diesel now apparent. In the first strike, the first few pulls reminded me of the blue hair grease you'd see as a black child. Interesting.
The High: Damn man, this one was dope.
First strike and you get those terps coming at you strong, and it eases in with an outer uplifting feeling all around. Its smooth but will snap you, creating a layed over heaviness in what feels like your neck muscles and under your eyes. Halfway through, and it's almost like you're wearing a mask, with the buzz intensifying and floating around the base of your skull. This is gradually body relaxing, but heavy in the mental drag it gives you, which I found to be couch-locking, a rarity for me.
Dope's Thoughts: I enjoyed the experience of the high, and the personality difference in the flower opposed to other Runtz cuts these days. The focus was put on strike, not on the terps, and still came out distinguishable which Is important in consistency. This hit high in my ratings with an added few points for the clean of the smoke. It hit a little too smooth for me at points making the experience pleasurable, but I expected just a bit more of a punch from it.
This gets a well deserved 8.4/10 out of me 💯 #DOPAMINE
#morningpost #goodmorning #potd📸 #strainreview #redwoodcoast #cannabisreviewcanada #cannabisreviewsmd #cannabisreviewguy #420 #cannabis #weed #cannabiscommunity #nftgallery #710 #cryptocannabis #nfts #weedporn #hightimes #stoner #smoke #highlife #maryjane #cannabisculture #losangeles #highsociety #exoticgrown #exoticflowers #dopereview
DOPE, THE REVIEWER!
Now Featured on The Highest Critic ⭐️
Young Mogul 👺 DMV ‼️
Culture Artist & Cannabis Reviewer. Creator of // #DOPAMINE 🧠
Advertisements