Strain Review: Gucci Berries by DogHouse
I know it looks like I went hard on the sharpening tool, but I legitimately have not touched this picture. If you can't tell from the handmade sign, this is Gucci Berries from @doghouse420 (not Mycotek's). I'm thrilled to be working with these guys. I've wanted to try their stuff for a while but other weed catches my eye consistently.
Lineage/Genetics: Starfighter OG x MAC
Original Breeder: DogHouse
Grower: DogHouse
DogHouse Gucci Berries Strain Review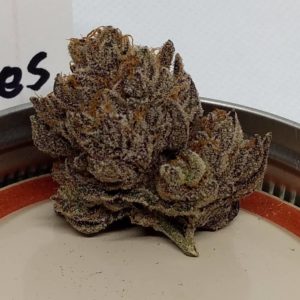 She's a cross of Starfighter OG and the MAC. That combination equates to pretty much what I want MAC to be. It doesn't have those kinda doughy/kushy notes, but it has this amplified fruitiness I really dig. Berries and some citrus come through. There's also a distinct smell most would describe as "gas" that I associate with this farm. I don't really like that word as a description because I don't think it's accurate. Smells a bit like chemicals. Kinda astringent, but not acidic. Overall it's almost like blueberry pie filling somebody spilled lye in.
The high is fucking powerful. Hits you in the face like a shovel, then just melts the shit off. The meltiness moves quickly into the brain as well. MAC has a habit of putting me to sleep, but this doesn't do that. Mild couch lock, but that also translates to pain relief when active. It's got a lot of uses.
MAC is often too dense for my taste, but this is obviously considerably fluffier, which I prefer. It's a bud structure that can be easily broken up and metered out rather than having to be thrown into a grinder. The nugs are also strikingly beautiful. The coloration and resin coverage are top notch. I honestly wasn't expecting to be this impressed. If your local dispensary carried their products (@thc.pdx gets it sometimes) grab it when you see it. It's definitely worth the buy.
#thehighestcritic #strainreview #strainreviews #weedreviews #420review #portlandcannabis #OMMP #portlandweedreviews #MMJ #oregoncannabiscommunity #portlandcannabiscommunity #oregonweedreviews #Medicate #oregoncannabis #PNWStoners #PDXcannabiscommunity #pdxcannabis #pdxstoners #cannabiscommunity #cannabisreviews
Advertisements